Dr. Deven K. MacDonald
After several months of searching and interviewing
high-quality candidates, we're excited to announce
that Pastor Deven K. MacDonald was commissioned
as Berean's new Lead Pastor on Sunday, September 18.



Watch Berean Elders and Pastors commission Pastor Deven and his first message to the church.
---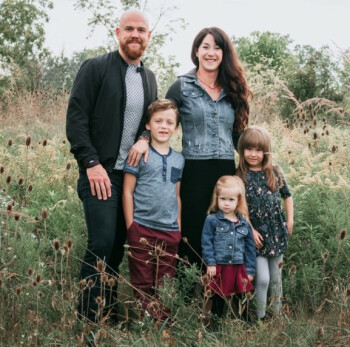 The MacDonald Family
The MacDonald Family comes to us from London, Ontario where, by God's grace, Deven has had the privilege to fulfill his calling to proclaim the name of the resurrected Lord and care for his people by helping them understand how the Good News of Jesus impacts their everyday lives.
He has a bachelor's degree in Biblical Studies from Crandall University in New Brunswick, Canada, a master's degree in Theology from Acadia University in Nova Scotia, Canada, and a Ph.D. in New Testament from the University of Pretoria in Pretoria, South Africa.
Deven has published two books:
The Resurrection and You: How the Resurrection Answers Your Biggest Questions, June 2022. W&S Publishing
Allegiance, Opposition, and Misunderstanding: A Narrative Critical Approach to Mark's Gospel, March 2018. W&S Publishing
In his spare time, Deven enjoys hunting, fishing, working out, spending time with his wife and family, summer sunshine, and a mediocre cup of black coffee.
---
Q+A WITH PASTOR DEVEN


What will your first year at Berean look like?
My first year at Berean is going to involve a lot of listening and learning. Every church has a unique culture, policies, structure, and ways of getting stuff done. While we share much in common, each church is unique. I'm the new guy here, so I need to listen well.
My focus is going to be on getting to know the people at Berean and the church itself. There's no way that I can provide adequate leadership to people that I don't know and understand. So, listening, hearing stories, understanding the past, and sharing dreams will be a big part of my work moving forward.
What do you believe is the primary role of Berean's Lead Pastor?
I understand my primary role to be preaching God's Word, shepherding God's people, and eventually providing clarity on vision and the future. A significant part of doing the above involves helping Berean remain on course, stay faithful to Scripture, and work for health in all aspects of ministry.
My theological conviction is that church is never supposed to be based on one individual. My calling is to teach and equip God's people for the work of ministry in their day-to-day lives. Nothing excites me more than seeing people grow to live out and share the gospel in their homes, workplaces, and social circles.
What excites you and what scares you about the opportunity at Berean?
What excites me is working with such a fantastic team! I am so excited to see the collective gifts used for a shared vision and mission. I've always enjoyed building and working with high-functioning teams and I can't wait to work alongside Berean's staff, Elders, and leaders. We can do so much more together than we can on our own.
What scares me? Well, it's not the cold if that's what you're thinking! I am eager to see (but trying to trust God) my children's transition into life in Minnesota. They are amazing kids, and each is a true gift from God. But they are leaving behind everything that they've ever known. I am praying that this new season will be a real incubator for their spiritual growth and development.