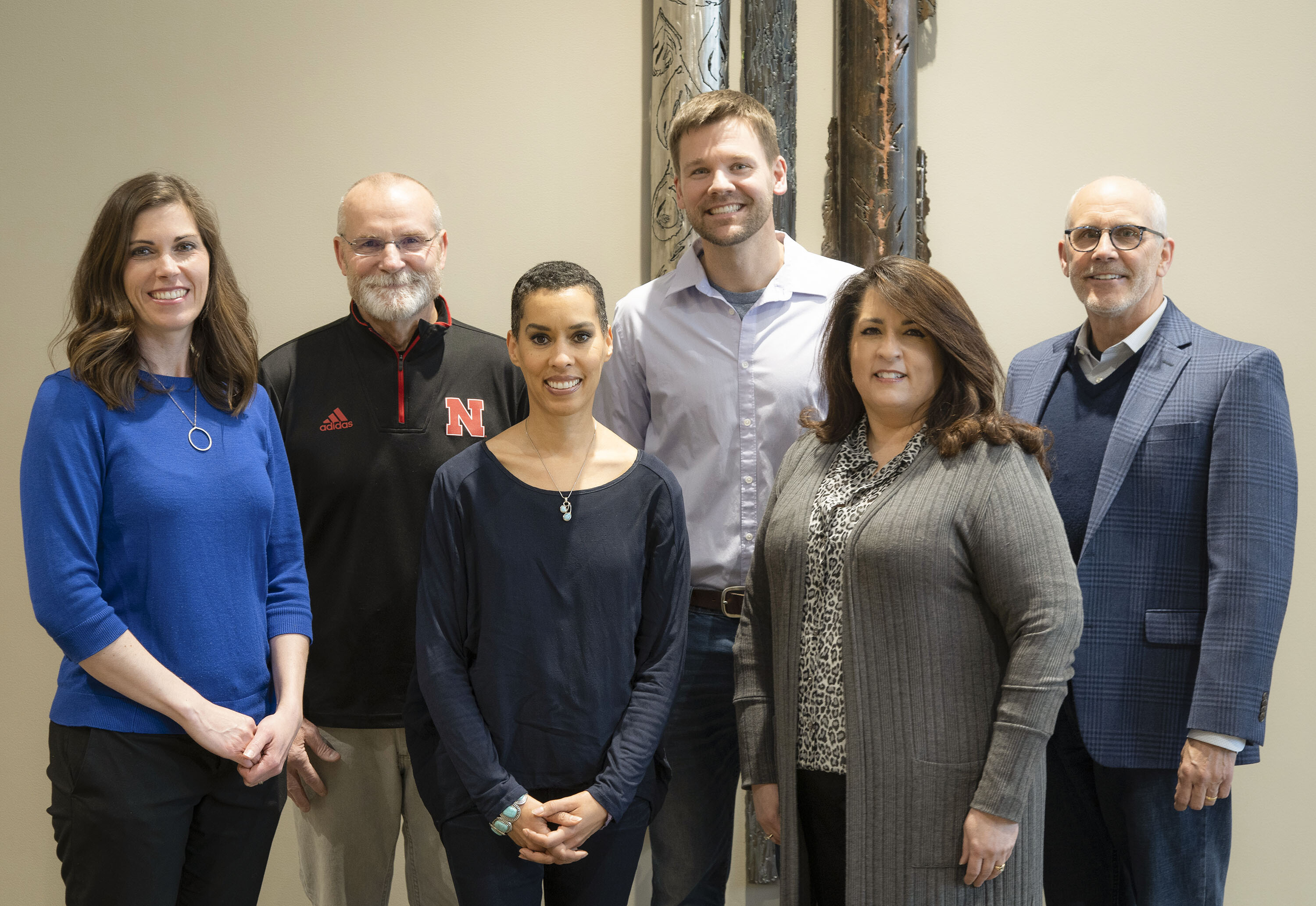 Pastor Search Team
I have a questionRefer a PASTORSubmit a Resume
Search Update:
June 30, 2022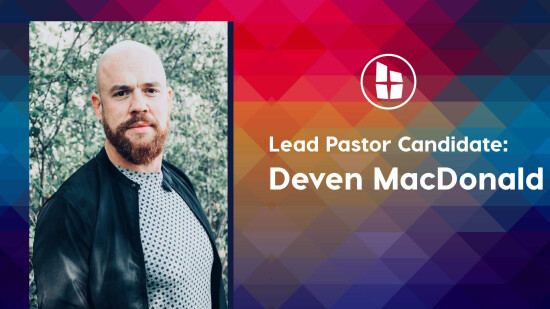 Great news at Berean! The Pastor Search Team has submitted a Lead Pastor Candidate, Rev. Dr. Deven MacDonald, to the Elders and they have voted to present him to the church for a vote at a Special Called Business Meeting on July 10th.
To learn more about the candidate, please read his bio and visit his current church's website to listen to sermons and learn more about the church. Please be in prayer for Berean and the candidate as we seek the Lord's will in this decision for our church.
Rev. Dr. Deven MacDonald BioSummerside Community Church
You're Invited!
Please join us for a Town Hall Meeting on July 8th at 6:30 PM to meet Pastor MacDonald, and the opportunity to ask him questions. If you are unable to attend, the Town Hall will be available via live stream on our YouTube Channel.
On July 10th, Pastor MacDonald will be preaching at all four Sunday services at Berean. Please come and listen in person, or tune in to our live stream at 9 & 11 AM on our YouTube Channel.
Members should attend the Special Called Meeting on July 10th at 6:30 PM to cast their vote. If you are a member and are unable to attend the vote on July 10th, please request an absentee ballot here.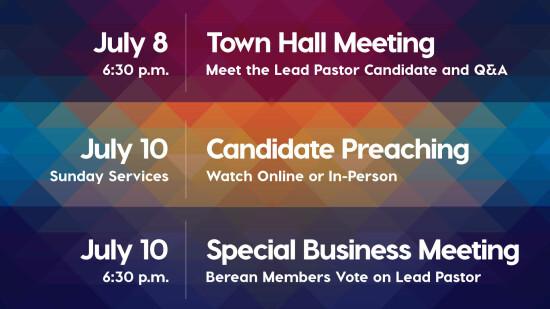 May 27, 2022
Update from the Lead Pastoral Search Team
Dear Berean Family,
In our previous updates, the majority have focused on general information regarding our search process. Providing information has been a challenge as to what people need to hear, want to hear, and what we're able to share to ensure the confidentiality of the applicants and the process.
In this update, we desire to provide a little more detail related to the search and to bring you up to date on our progress.
Background:
When the Search Team left the previous search firm on September 28, 2021, from then to February 22, 2022, we received approximately 63 applicants, vetted 53, and conducted four first interviews and one second interview. Many of the applicants 10 of the 63 applicants were placed on hold to be reviewed by the new search firm if and when that would be necessary. Applications have been received from Australia, Germany, Canada, England, and various states across the U.S.
Applicants Background:
Pastoral Experience:
60% Lead Pastor experience
12% Associate Pastor
24% Worship or other pastoral experience
Education:
94% Bachelor's degree
44% Masters
56% Masters of Divinity
38% PhD/Doc.
At the February Faith Family Celebration it was announced that we would be partnering with a new search firm. At the same time, we had 2 applicants of interest that we were pursuing. It was decided to hold off on contracting with the search firm until these 2 applicants were reviewed. This decision was based on the viability of these 2 applicants and being financially responsible. As a result of a series of interviews, 1 of the 2 applicants has become an applicant of interest who we continue to evaluate, pray for, and seek the Lord's will.
We'd like to express our gratitude to you for continuing to pray with us and for us over these past two years. We understand how difficult it is to wait for something so important, but we are confident that God is doing a work in this church as we continue to wait on the Lord together. Thank you for your fervent prayers and patience. Your faithfulness encourages us and helps to keep us going.
---
Pastor Search Team Biographies
EARL WELLER
My name is Earl Weller. Heidi and I were married at Berean in 1980. We have two sons - Derek (Deidre + 2 grandkids) in Austin, Texas, and Grant (Dani) in Hopkins. We've attended the Burnsville campus since 1991. Past connections at Berean include children's ministries, properties team, and Elder board. Currently serving on an offering counting team, and as a parking team-lead. Have done mission trips to Belgium, Croatia & Guatemala. Fact: Had mom for 3rd & 4th-grade teacher & Dad as Superintendent of Schools. My favorite verse is I Peter 5:7
JESSIE ANDERSON
My name is Jessie Anderson. My husband Tony and I have been married for 16 years and we have two boys, Isaac and Myles. We have attended Berean since 2002. Over the years I have served with MOPS, Berean Kids, Awana, and Stephen Ministry. In 2015 I joined the Berean staff overseeing the Benevolent Ministry. Currently, I am a substitute teacher for Berean Kids on Sunday morning and lead a Moms-in-Prayer group at my boys' school. I love the four seasons of Minnesota and am up for any outdoor activity no matter the season. My favorite Bible verse is Philippians 4:6-7.
DAN COLGAN
My name is Dan Colgan. My wife Deb and I have been married 40 years, have 3 grown and married daughters, and 5 grandchildren. We have attended Berean Burnsville since 1992. Through the years I have served in various leadership roles including children's choir, AWANA, Senior High Youth mentor for worship, Contemporary Worship Team, Nominating Committee, Search Committee for a Worship Pastor, and as an Elder for 6 years. Currently, Deb and I are members of the choir and a small group. Deb currently serves as principal pianist for the choir and teaches out of our home. It's been a blessing and a privilege to be a part of the Berean family. We are excited to see what God has in store for us in this next chapter. One of many favorite Bible verses: Prov. 3:5-6.
KESHA MILLER
My name is Kesha Miller. My husband Dan and I have been married 30 years and we have been at Berean since 2003. We have one daughter, Alyssa, and her husband, Luke, and our son, Zach, will marry his fiancee, Kayla in December. We attend the Burnsville Campus on Sunday mornings; usually the third service. Over the years I have served in several different ministries at Berean, and currently serve in Berean Youth with high school students, and in the Mom2Mom ministry as a mentor mom. I grew up in the Pacific Northwest and I still love a foggy, rainy day. One of my favorite Bible verses is Isaiah 26:3.

TRENT HAGEN
My name is Trent Hagen. Dana and I have been married for 10 1/2 years, and we have two daughters (a 4-year-old and 14 month). We attend the Lakeville campus and have really enjoyed building relationships through our Small Group. Something you may not know about me is I am a perpetual learner with two master's degrees (MDiv, MBA) and currently learning cinematography. My favorite Bible verses are Proverbs 3:5-6.
MELISSA COLLIER
My name is Melissa Collier, and I attend the Burnsville Campus. I have been blessed with 19 years of marriage to Steve Collier. Currently, I have the privilege to lead a small group in the Women's Bible study, serve on the Prayer Team, and pray weekly for Berean with the Prayer Warriors. A little fun fact about me is that I have jumped out of a perfectly good airplane -- twice. One Scripture passage that changed my life years ago is God's description of Himself in Exodus 34:6-7.
---
Ways to pray for the team and the process
MONDAY
Scripture Reading: Proverbs 3:5-6
Pray for the church and search team to trust the leading of the Holy Spirit in this season.
TUESDAY
Scripture Reading: John 15:1-8
Pray for the church to continually abide in Christ and produce much fruit that glorifies the Father during the interim period.
WEDNESDAY
Scripture Reading: Jeremiah 29:11-13
Pray for the search team and the church to seek God wholeheartedly with the realization that he is in control of the church's future.
THURSDAY
Scripture Reading: Joshua 1:9
Pray for each member of the search team to have an overwhelming sense of God's presence and guidance as they work through the steps of the pastor search process.
FRIDAY
Scripture Reading: Proverbs 2:2-6
Pray for our future pastor to seek God's wisdom in every area of life and decision-making. Pray for the search team to be attentive to the Lord's wisdom.
SATURDAY
Scripture Reading: Isaiah 55:6-9
Pray that in times of discouragement, the search team and church will seek the Lord diligently and remain confident that he is at work bringing the church and our future pastor together.
SUNDAY
Scripture Reading: 2 Timothy 4:1-5
Pray for our future pastor to faithfully preach the Word of God today in his local church. Pray for our pastors who will be breaking the Bread of Life with us on this Lord's day.