7/31/2020
Pastor Tony updates us on VBS, Faith Family Festival, and the difficult decision to wear masks while keeping the main thing the main thing.
---
7/23/2020
Pastor Dan Feldkamp talks to us about Minnesota's Executive Order requiring face masks at all indoor gatherings, and what that means for Berean.
Request Masks
If you need a mask, pick one up before weekend services at the welcome tent outside the entrances, or order one through the I Need Help link.
---
7/9/2020
Pastor Tony reminds us of why we gather together as a church - both online and in-person.


---
7/2/2020
Pastor Tony expresses his excitement for gathering together, both in person and online, and scattering together as the hands and feet of Jesus.
---
6/19/2020
Pastor Tony reminds us to reserve our seats for weekend services and celebrates the generosity of our faith family in serving and giving.


---
6/11/2020
Pastor Tony outlines some of the preparations for re-opening on June 20 & 21 and celebrates your overwhelming response to the call for donations to support our neighbors in Minneapolis.

9 Days Until Our Faith Family Reunion!
As of today, it's 9 days until our Faith Family Reunion on June 20 & 21. Things will look a little different for this phase, but these changes will not be permanent. This is phase one, not our new normal.

Stay tuned... on Monday, June 15 you will receive an email containing instructions on how to reserve seats for weekend services as well as more details on our new processes for meeting together in-person.
Service times are changing during Phase 1 to help allow for better social distancing.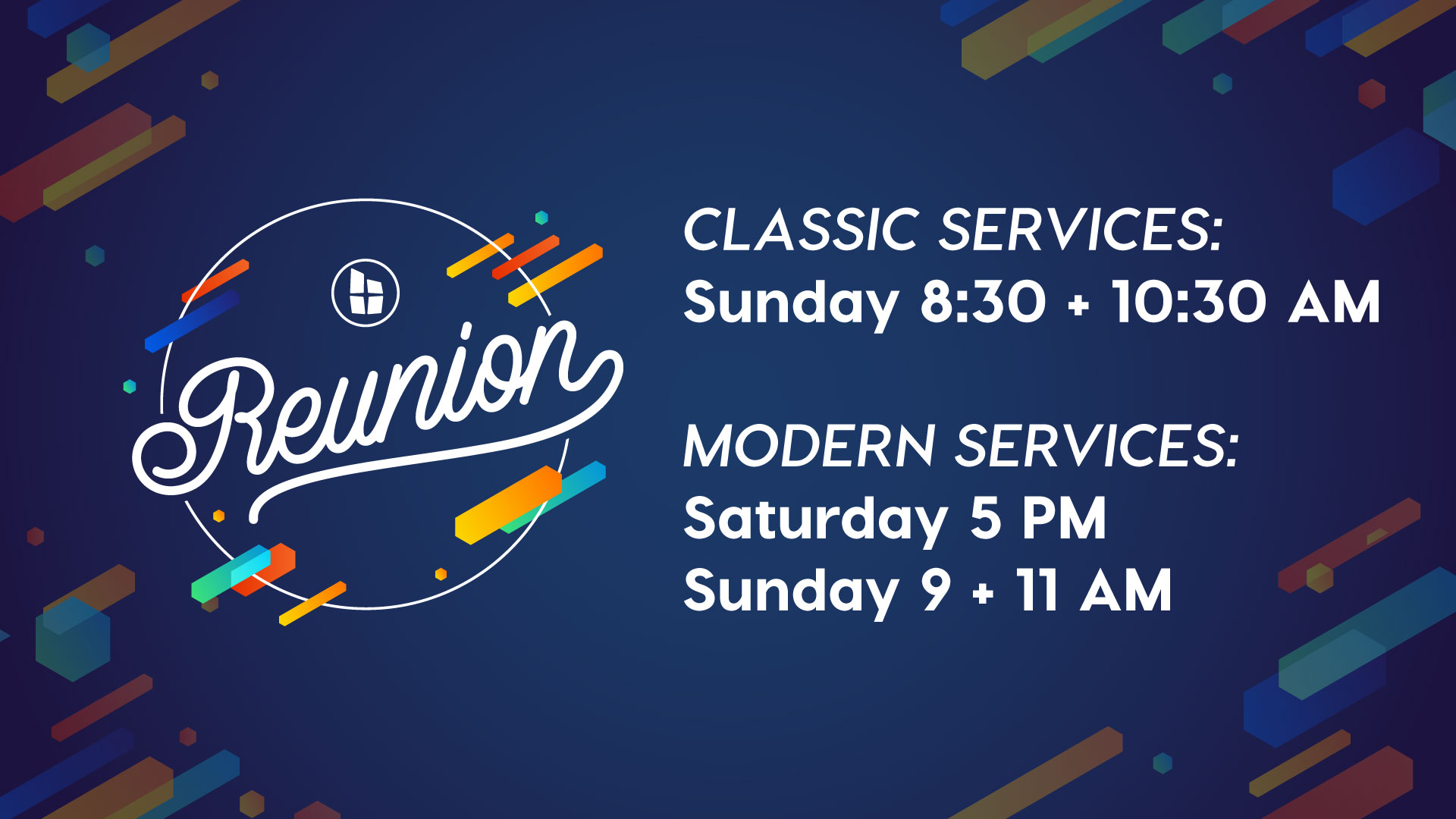 Doors will open 15 minutes before each service begins.
We are assembling and training a team of volunteers to help out during phase one of reopening. If you are willing to join the team, let us know below.
---
6/4/2020
Urban Ventures is one of the local ministries Berean partners with. We are currently collecting donations to be dropped off at Berean (door #3) this week, Tuesday, Wednesday, or Thursday, between 10 a.m. and 2 p.m.
Pastor Tony updates us on Phase 1 of our re-opening Faith Family Reunion happening on June 20 & 21 as well as
how we are partnering with Urban Ventures
to help meet the needs of families in Minneapolis.
---
5/29/2020
In this week's update, Pastor Tony reflects on the past three months but also gives some insight on when we will be gathering together for public worship.
---
5/22/2020
---
5/14/2020
Pastor Tony talks about Faith Family Celebration ONLINE happening this Sunday night at 6 PM. To join, go to BereanMN.com and click WATCH LIVE. He also talks about the process and consideration our elders and pastors are working through as they explore plans for reopening Berean so we can meet again in person.
---
5/8/2020
In this week's update, Pastor Tony encourages us to stay focused on Who is in control and provides an update on Faith Family Celebration, the process for affirming the elder approved budget and voting on elder candidates and nominating committee. We also have masks available for you to pick up next week at the church office. Pastor Tony also asks us to pray for leadership as they begin to prayerfully plan and prepare for re-entry to public gatherings. Keep praying. Keep serving. Keep being the church.
---
4/30/2020
This week, Pastor Tony updates us on the stay-at-home order being extended through the middle of May, the upcoming Faith Family Celebration – Online version, the Pastoral Search Committee, and First Connection happening online this Sunday night.
---
4/24/2020
We're All In This Together
This week, Pastor Tony updates us on how Berean's leadership is praying and planning for the time we will be able to meet in person once again. Until that day, we are praying for you and our community. And we have some exciting plans to provide food to bless our neighbors, first responders, and essential workers.
---
4/17/2020
Berean is on Mission
In this week's email, Pastor Tony celebrates the Masks on Mission initiative as Berean continues to partner with our local officials, businesses, and communities. He also shares about the digital imprint, connection, and interaction with our Easter online services.
---
4/9/2020
Ministry is still happening at Berean. Hear about Holy Week online events as well as new ways you can be involved in serving our communities.
Holy Week Services @ Berean
This year, Holy Week looks a little different at Berean because we're all worshiping from our homes. We want to make sure everyone in our faith family is connected to what's happening online at Berean, especially during these days when we can't meet in person.

We will be hosting an online service tonight, for Maundy Thursday and also tomorrow for Good Friday. You will be able to access those services from our website, YouTube and live on Facebook. Here are the details:
Maundy Thursday
This year, Maundy Thursday is a night of prayer and worship led by Pastor Terry and the Berean Elders. We are combining our Dwell worship night and Elder Led Night of Prayer. You can access this service from our

website, or

YouTube. If you would like to participate in this service with the faith family, please watch the live premiere on

Facebook, at 7 PM on Thursday.
Last year, our

2019 Maundy Thursday

service featured the Sanctuary Choir, an instrumental ensemble, actors and soloists. We have included a link to this service on our

website

for your enjoyment.
Good Friday
The Good Friday service will also be available on our website and YouTube. If you would like to participate in this service with the faith family, please watch the live premiere on Facebook, at 7 PM on Friday.
Easter Sunday
On Easter Sunday, service will also be available on our website and YouTube. If you would like to participate in this service with the faith family, please watch the live premiere on Facebook, at either 9:30 or 11 AM on Sunday.
We pray you have a blessed Easter, albeit a different kind of celebration. Jesus has still risen from the dead, he is still sitting at the right hand of the Father, and he is still in control during these difficult days. We're so thankful you are part of our faith family. If we can help you in any way, please send us an email. We love you and we can't wait to see you again in person soon.
---
4/3/2020
Keep praying. Keep serving. Keep being the Church.
In this update, Pastor Tony discusses how our team is planning and praying for our church and our impact in our local communities. You will also hear how we are moving forward as a church with some updates on our pastoral search process, budget process, and potential elder candidates.
---
3/27/2020
Update from Pastor Tony on how we will continue to worship online.
Online Programming:
Berean's Worship services will continue online through Easter. Join us via Facebook video Premier on Sunday mornings at 9:30, or anytime on our website bereanmn.com/sermons. After Easter, we will reevaluate our situation, take into consideration the guidelines of our federal and state leaders and decide our future plans. We will update you again after Easter.
In order to be a good partner with our local leaders and a good neighbor in our community, our building is closed for all staff and programs through Easter.
Even though we can't meet in person, Ministry and life still goes on. Beginning next week:
Be the Hands and Feet of Jesus
It's exciting to think that over 6,000 people worshiped with us online last week. During this season, we are looking forward to ministering to our community in a new way. Now is the time for The Church to be the hands and feet of Jesus in the South Metro. Look for new and inventive ways to get to people and help them when you can. Continue to give of your resources to help meet the needs of those around you.
We love you and are praying for you. We are encouraged by your service and generosity. We have hope because our hope is in Jesus. We look forward to our future and hearing about what God has been doing during this season. Let's continue to worship him in spirit and in truth. May he get all the glory and the praise.
---
3/19/2020
Update from Pastor Tony on ways we can help our community.
Thanks for joining us online for last week's service. The interaction and conversations on Facebook, the website, and YouTube were awesome. We'll meet there again this weekend.

We want to continue to be the church that gathers together to worship the one true God. At the same time, we want to partner with our local authorities, be good neighbors in our community and remain safe when we do meet.
Our plan for gathering together through March 29:
We will continue meeting for weekend services online via Facebook, YouTube, and the website.

No in-person meetings will happen at Berean through the end of the month.

To keep our staff safe, the church building will be closed next week; offices will only be open Tuesday and Thursday at 9 a.m. - noon.

Our Facilities Team members are cleaning the building top to bottom so that when we do begin meeting together, our spaces will be clean, fresh and safe.
---
Like the Good Samaritan in Luke 10, let's take this opportunity to help meet the needs of our neighbors and those around us who need help. Let's engage with our neighbors, loving them by sharing and serving them with an attitude of "What's mine, is yours, if you need it." This is an opportunity to be the hands and feet of Jesus; meeting the emotional, physical, practical, and spiritual needs of our community.

Our Plan for Serving Others:
I CAN Help: We have created a COVID-19 Response Team to help those in need during this crisis. Sign up to help by praying for requests, giving a phone call to those who are lonely, delivering groceries or prescriptions to those who are unable to get out.
Printed Cards: If you want to hand-deliver cards to people you know who may need help, pick them up at Berean inside door #3 or print them at home with this PDF. Hand them out to your neighbors to find out how to help them. Either they can contact Berean for help, or you can help them as a good neighbor.
I NEED Help: For those who need prayer, a friendly phone call or groceries or prescriptions delivered to them, they can call the church at 952.432.7168 or they can click this link to request help. Send this link to people you know who might need help.
GIVE to Help: Click this button to give online to Berean's COVID-19 Fund which goes towards costs associated with providing help to our faith family and neighbors.
As we continue to navigate these uncharted waters, we know that the God who brings us together is also the God who scatters us into the community to share our resources and to share hope.

Know that we are praying with you and praying for you. We look forward to the time we can get together to celebrate the goodness of God, but until that time, let's continue to meet online and let's continue to be the hands and feet of Jesus in our community.
---
3/13/2020

A video message from Executive Pastor Tony Manning
For this weekend, March 14/15, 2020 in addition to canceling all ministry events and meetings, Berean Baptist Church will not gather in person. Please watch this weekend's worship service online at bereanmn.com on the home page or on the Berean App.
To honor the recommendations of our governing agencies who have urged extreme caution, and to love our neighbors, many of whom are particularly vulnerable to COVID-19, we have made the difficult decision to cancel services and all programs and meetings at our Burnsville campus from Saturday – March 14 to Sunday – March 22. We will reevaluate on Monday, March 23 about future services and building use.
In addition, the Lakeville School District has canceled all non-district sponsored facility use effective immediately. For the next three weeks, (3/15, 3/22 and 3/29) our Lakeville Campus will be unable to utilize Lakeville North High School. The district will review building use after March 29 and will let us know when we will be able to resume weekend services.
We are closely monitoring and prayerfully considering how we will continue to respond to COVID-19 concerns. We will make decisions regarding future weekend services and weekday programming on a week-to-week basis and will communicate those decisions at bereanmn.com/updates.
Pastoral Care
Our elder, pastor and staff teams are developing plans to care for our people during this season, especially for those in our community and faith family who are at greatest risk. We ask that you communicate to us if you have specific needs or are aware of neighbors who need a church community to serve them due to how they have been impacted by this virus.
We encourage Missional Communities and in-home Bible studies to explore other ways to meet and stay connected such as phone calls and video calls. It will be increasingly important for you to find ways to stay connected and minister to others in the days and weeks ahead.
Giving
We are so thankful for those who utilize online giving as a way to support the ministries here at Berean. If you haven't used on-line giving, then we would like to encourage you to try. You can contact Kelly at and she can help you to set this up over the phone. Consider giving through the website at bereanmn.com/give or by setting up on-line giving through the Berean App. Both are safe and secure methods of giving and allow ministry to continue to be supported. In the coming days and weeks, we foresee that Benevolent needs may increase so it will be important to continue to have the necessary resources available to meet those needs.
Travel/Mission Trips
Unfortunately, due to strict travel restrictions and the need to take an abundance of caution, our Guatemala and Dominican Republic mission trips scheduled for March are being rescheduled. Please pray for our missionary partners who were counting on our teams as well as for those who were preparing to serve.
Stay Informed
All future communication will continue to be distributed through our website at bereanmn.com and through push notifications on the Berean App. If you have any questions, please email
Stay in Prayer
For many, this has caused fear and anxiety but God has given us a spirit of love, not fear. To that end, we pray for our church, community, state, nation, and mission partners. We ask that God will bring peace in the midst of these circumstances and we pray for healing and a resolution to the spread and impact of COVID-19. We invite you to join in prayer for these things and would encourage you to turn to scripture each time you are tempted to scroll through another article or turn to another news station. This does not mean we should be careless or reactionary but presents us an opportunity to work to serve our church and community in a way that shows that God is in control.
Spiritually, this situation is a time to be reminded that our trust is in God. He is sovereign and in control. Scripture tells us:
"Don't worry about anything; instead, pray about everything. Tell God what you need, and thank him for all he has done. Then you will experience God's peace, which exceeds anything we can understand. His peace will guard your hearts and minds as you live in Christ Jesus." – Philippians 4:6-7
---
3/5/2020
Berean Faith Family,

It has been quite a week as we hear of the COVID-19 (Coronavirus) outbreak that has affected China so greatly and is making its way to our side of the world.

Although there is not an immediate threat to the Berean community, the wellbeing of our faith family is of utmost importance so we will continue to monitor the news closely and will respond accordingly to ensure the safety of our community if the situation changes.

We are taking preemptive measures to prevent the spread of germs in our facility that include frequent and intentional cleaning of areas that are known to frequently transmit disease. In the event that COVID-19 makes its way to our community, we are creating an action plan that may include the cancelation of services and programming. We will utilize email, our website, and app notifications as well as our recorded phone message to communicate cancellations and changes in programming.

Here are steps to help everyone stay healthy:
If you are sick – please stay home.
Those who have symptoms of acute respiratory illness are recommended to stay home until free from fever of 100.4 or greater using an oral thermometer, signs of a fever, and any other symptoms for at least 24 hours, without the use of fever-reducing or other symptom-altering medicines (e.g. cough suppressants.).
Keep in mind that we have many people who are vulnerable to illness and while we value your attendance, our priority is the well-being of everyone. If you are not feeling well, please watch the service via our website or App from the comfort of your home and we will see you when you feel better. Services are posted online by noon Monday.
If you are well but have a sick family member at home diagnosed with

COVID-19

– talk with a medical professional before going into the community at large.
Clean your hands often with an alcohol-based hand sanitizer containing at least 60-95% alcohol, or wash hands with soap and water for at least 20 seconds. *Please utilize the anti-bacterial stations located throughout the building.
Get in the habit of NOT touching your face.
Do not give handshakes or hugs. A wave and a smile is preferred or if you must have contact, please use a fist or elbow bump.

We remain certain of God's steadfast presence and careful attention to all that is happening. We need to pray for those affected by this illness, our mission teams that are preparing to travel abroad, and for those who are working to minimize the impact of this virus.