And he was transfigured before them, and his face shone like the sun, and his clothes became white as light (Matthew 17:2).
We are all equipped for a purpose. For me, it's to create!
One talent that God has given to me is that of welding and sculpting. Because he has blessed me with this gift, I try to focus on my art pieces for his glory and honor. I have a sign that I made that hangs in my workshop. It reads: "EQUIPPED AS THE LORD'S SERVANT TO CREATE." I use that statement with other purposeful things I do as well, and I'd like to encourage you to do the same.
Use the beginning of that statement and fill in the blank: "EQUIPPED AS THE LORD'S SERVANT TO ________________" (e.g., pray, mow the lawn, paint, vacuum, you name it!). Whatever you do, be God's servant in a joyful way and talk to Jesus on the journey!
As you read this blog and hear a little bit of my own journey, I pray you will be reminded of the talents God has given to you as well. That you will see how he uses them for his transfiguration of love and goodness, always working in and through you.
With that, let me share some beautiful reminders that God has taught me through my process of welding and sculpting.
Pounding the hot metal reminds me of the suffering Jesus endured for me.
My sculpting usually includes one or two forms of welding: plasma cutting or TIG (tungsten inert gas) welding. With my TIG welder, the process is to fusion weld. I fusion weld either mild steel or stainless steel. I weld each of the metals together by getting them so hot that they "puddle" together. In order to properly do this, I must know each metal's thermal mass. Often as I am welding, I think of Jesus' heart and hands welding into the design of each sculpture. And as I am pounding out the hot metal on my anvil, I more often than not think of the pain and suffering (the beating) that Jesus went through leading up to his death on the cross for our sins.
Fusion welding reminds me of the fusion of God's heart with mine.
There is another type of welding called stick welding. This involves adding (electrode) material to hold two metal pieces together. Think of a glue gun where the glue stick melts and holds two or more items together. The difference, however, is that a glue gun heats to between 200 and 450 degrees Fahrenheit while my typical TIG (arc) welder heats to 6,000 degrees. The extremely high temperatures cause the metal to turn molten (depending on the type of electrode and metal being fused). I rarely stick weld because I often find that it is not as permanent as fusion welding.
I love that fusion welding reminds me of the fusion of God's heart with mine and the permanence of his everlasting eternal love for me.
Plasma cutting reminds me of our unique Creator.
An additional welding technique I use is plasma cutting. Plasma cutting is a welding process that allows you to cut into metal. My plasma cutter cuts through metal that is as thick as an inch. I use it to cut the metal in half or manually cut a design into the metal. Plasma cutting uses a powerful jet to create an ionized gas at temperatures above 36,032 degrees Fahrenheit. Plasma is considered to be the 4th state of matter beyond the conventional solids, liquids, and gases. This thought of something so unconventional reminds me of just how unique and special our Creator is too.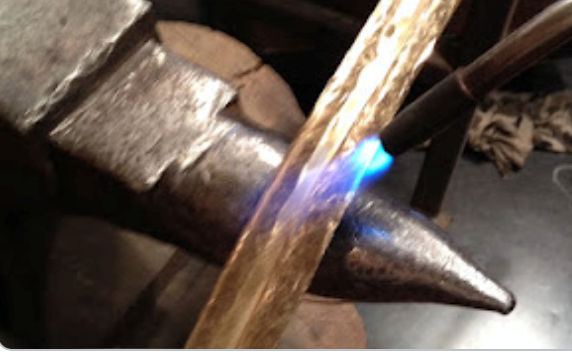 What do these processes teach us about God's light and our transformation?
Both the processes of fusion welding and plasma cutting involve having a precise pinpoint of light that is directly aimed at the piece being transformed. Hmm, this sounds a bit like God in his transformation of each one of us, doesn't it? That is, of course, if we are willing to stand in the direct light, the spotlight, with him.
Both of these types of welding techniques also produce slag. Slag is a byproduct caused by the dirty elements created by impurities in metal welding. As an artist, sometimes I keep the slag attached in order to highlight parts of a piece. I make the attached slag shine by fine sanding it with my angle grinder. This lets me enhance and brighten an area in order to draw attention to it. Ahhhh, a shiny reflective area to call attention to! Does that sound familiar to God's actions with each one of us? Does he sometimes highlight areas in our lives that we need to pay a little more attention to? Does he show you areas of your life that may require deeper reflection?
He does this so he can refine and transform us to be more like him.
As amazing as these two welding processes are, they were developed by humans, in the minutest way, within the boundaries of our finite understandings while trying to imitate the properties of one of God's creations - the sun. I was taken aback when I taught welding that students could be in awe over the 4th state of matter caused by the temperatures of plasma cutting, yet they could not conceivably connect to the fact that it is God who is the Creator of everything. This shows the limitations of our human mental capabilities. Even more so, the trouble we have of comprehending the ultimate truth, that God is the one and only Creator - going way beyond any 4th state of matter.
Not all heat, whether high or low, is optimal for the perfect light. Only God's light is the one and only true light!
We often run to the artificial light.
While writing about light, I am reminded of how often we can suffer depression when we are living without the light. One such time is during the darker times of our year, such as the fall and winter months, when our days are shorter and the light is less prevalent.
When we are experiencing seasons of depression in the darker months, our solution is often to run to the artificial light of a lamp - a manmade light. This is manmade to replace the lack of daily sunlight. These lamps are for humans, and they are a simple kind of sunlight therapy. Perhaps you've also seen the manmade lamps for winter greenhouses to help plants grow during the darker seasons as well.
Both of these solutions are trying to mimic the light from God. I find it interesting that we seem to gravitate toward human inventions to find happiness rather than giving ourselves up to our Savior as the one and only true light; He is also our true source of hope, grace, and happiness, but even higher than that, TRUE PURE JOY.
What we all need is much more of God's holy light.
While I'm not a doctor, if there is one suggestion I wish I could tell everyone who is looking to overcome a good chunk of their depression or sadness, it would be to try a relationship with God. Maybe a great deal of their lost hope and depression could be released by following the true light. The more we do, the more we can go from being egocentric to GOD-centric.
When there is God's light, then there is His holiness, and then there is HIS HOLY LIGHT.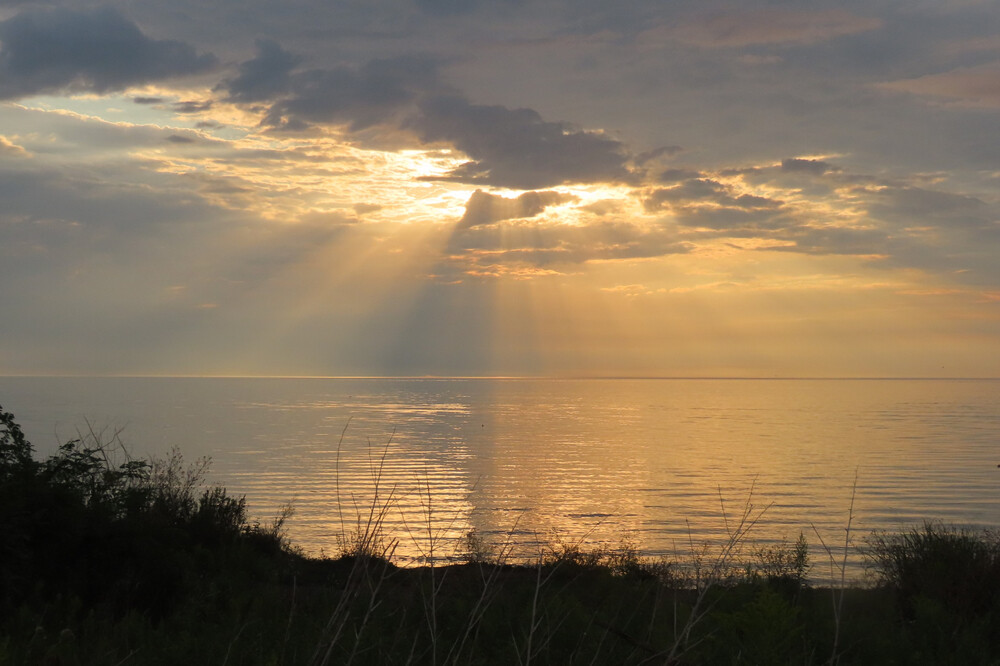 There are many passages in the Bible about God's light.
The Bible talks a lot about the light, and I'd like to share with you a few of these passages. As I read them, each one ignites a dynamic light in me, depending on what is happening in my day, or in my life, at the time.
I invite you to choose one or two of these light-filled gospel quotes, keep them close to your heart, put one on your front heart burner, and take them daily to and with Jesus. (Today, being Valentine's Day, is a prime time to really focus on long-term heart promoting!).
Notice that on the days and moments when you reflect on these light-filled passages, your thoughts and situations will be enLIGHTened and more of your moments will be HOLY. Notice how God's light glows brighter in a soothing way.
Then, look at areas of your life that may be glowing HOT with pain and consider whether you have perhaps been focusing too much on the artificial, human light. This artificial light does not equate to God's goodness or his holiness. True holy light equates to God and his holiness.
Let your choice of gospel "light" quotes be a personal conversation between yourself and God. This is when your personal relationship can truly grow. Relate to God in first person. Talk (pray) to him, one on one. This relational and personal conversation leads to the perfect heat. The more personal and honest you are in this conversation, the more the "slag" falls away. Continuing your personal conversation with God follows with more brightness and light in your life and a deeper, godly relationship. This puts you in the perfect light to relay to someone else what God has done in your life, for joyful and immaculate outcomes.
Choose some light-filled passages to dwell on.
Here are just a few passages about light to help you get started. Choose the ones that speak to you the most.
"I have come into the world as a light, so that no one who believes in me will remain in darkness" (John 12:46, BSB).


"But you are a chosen people, a royal priesthood, a holy nation, God's special possession, that you may declare the praises of him who called you out of darkness into his wonderful light" (1 Peter 2:9).


"The Lord is my light and my salvation; whom shall I fear? The Lord is the stronghold of my life; of whom shall I be afraid?" (Psalm 27:1).


"Again Jesus spoke to them, saying, 'I am the light of the world. Whoever follows me will not walk in darkness, but will have the light of life'" (John 8:12).


"The unfolding of your words gives light; it imparts understanding to the simple" (Psalm 119:130).


"But if we walk in the light as he is in the light, we have fellowship with one another, and the blood of Jesus his Son cleanses us from all sin" (1 John 1:7).


"He reveals deep and hidden things; he knows what is in the darkness, and the light dwells with him" (Daniel 2:22).


"You are the light of the world. A city set on a hill cannot be hidden" (Matthew 5:14).


"And God said, 'Let there be light,' and there was light" (Genesis 1:3).


"Every good gift and every perfect gift is from above, coming down from the Father of lights, with whom there is no variation or shadow due to change" (James 1:17).


Additional Passages:
Matthew 5:15-16
Numbers 6:24-26
Acts 13:47
Ephesians 1:18
Luke 8:16
2 Corinthians 6:14
Luke 12:3
Psalm 80:19
Psalm 31:16
Psalm 44:3




Cling to the true light!
In the beginning, you may find that when the light shines on your life it seems blinding as it reveals the dark corners of your life and relationships. I am often reminded of how toxic molds are killed by bright light. In the same way, bad moods which are toxic between you and Jesus are killed by bright light.
Realize that as you discover his light, you will not only get used to it but you will crave him more and more.
Just as your eyes and heart fell to the darkness that crept into your life, think of how his light can also save you and TRANSFORM you. Don't be afraid of the light that shines on you. Keep this light as your laser beam focus. It's between you and him, with him, and for him. He is the one and only true light.
As I close, I hope you'll take a moment to listen to a song called "Oh Holy Light" which can be found at the link HERE (You can also find it at the end of this post). Listen and be reminded to cling to the one true light - today and always! This song is what tied all of my blog thoughts together in an incredibly holy way. It tied my thoughts about light together with holiness and God's transfiguration in us all - when we declare ourselves as his children and that he died for our sins giving us eternal life in him!
I pray that you know and feel how your love will grow exponentially the more you pray with God. I pray continually for you to find peace in your heart, the more you invite him to come in. I also pray that you have one-on-one conversations with him throughout your days, especially in those holy moments. Love him and others more as you surrender to him. Give him all your thoughts and problems, while thanking him for putting all the deLIGHTful moments in your day.
From my heart to yours,
Carol Tentinger
P.S. As part of the Prayer Team at Berean, I hope I can be a conduit for you, whether it's when I am praying up front after a service or through your prayer requests sent directly to our whole loving team.
---
Listen to "Oh Holy Light" (by mara music):