"When I am afraid, I put my trust in you.
In God, whose word I praise,
In God I trust. I shall not be afraid.
What can flesh do to me?"
Psalm 56:3-4
We are all stockholders in fear. Think about how you invest in it every single day. The fear of fire makes us deploy smoke detectors throughout our homes. How about radon? There's another monitor for that. Fear causes us to install security measures such as home alarms, deadbolts, and car alarms. Severe weather has an app to warn us. We pay huge sums for life insurance, car insurance, mortgage insurance, and medical insurance to hedge against trouble. All around us, the message reverberates: "Be afraid; be very afraid! Take every step possible to insulate yourself from harm or accident."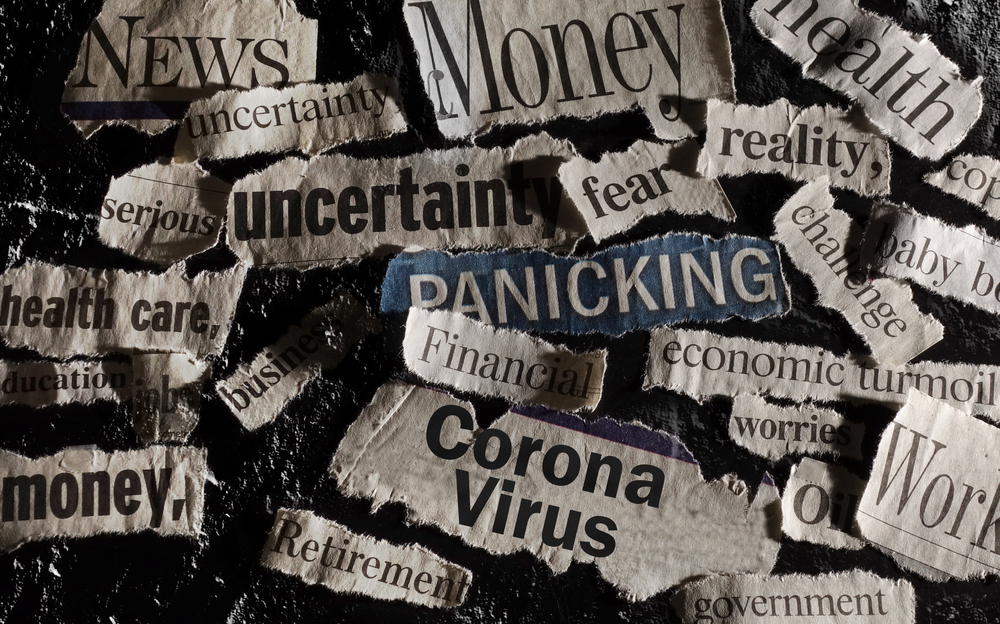 Fear is at the center of a host of words that circle like buzzards: worry, anxiety, panic, terror, alarm, dread, foreboding. For the past eighteen months, we have lived under a double torrent of fear. First, we learned of a pandemic that triggers existential fear of widespread death and personal vulnerability. Then, this information has been spun, magnified, and sensationalized by an unending cycle of news and opinions. Medical worries and media hyperbole have served up a toxic cocktail of fear. And the irony is we get addicted to fear. We just can't stop sipping new doses with each breaking headline.
No one wants to live this way. In fact, we really can't feel fully alive and free when fear is crouching just outside the door or rattling around in our thoughts. Nor can we make wise and thoughtful decisions.
So, what can we do with our fear? In Psalm 56, David's example gives us some handles.
Acknowledge and Name Your Fear
David, the lion killer and Goliath slayer admits, "I am afraid!" He felt exposed, weak, and vulnerable. His enemies and challenges were innumerable and insurmountable. But he didn't mask his fear with denial, anger, hyperactivity, or blame. Nor did he curl up in shame. Fear has a way of shrinking to its proper size when we name it. It's usually not the whole cloud of ominous threats that rumble like a thunderstorm in the back of our minds. It's normally one or two specific issues that need to be faced. When we name the fear, as David did, we begin to see what direction we should go and what action, if any, to take.
Pivot from Darkness and Look to the Light
David, in his fear, pivots away from the darkness and faces toward the light, putting his trust in God. God is not just a concept for him but someone who is present, powerful, and comforting. He knows God is able to provide strength on the inside and resources on the outside. David documents his groping, his anguish, and his stumbling. His mind and heart are racing, and he knows that wise decisions do not come from such turmoil. So, he takes his fear to the One he trusts. He turns to face the right direction before he takes another step.


Praise God, Who is Able to Set You Free
In Psalm 56 David writes, "This I know, that God is for me" (v.9). He doesn't stop with a dry declaration of theological fact. He immerses himself in praise. He extols the Lord whom he can trust. He anchors his soul in what is true, right, and good about the Father he knows. This leads him to even deeper clarity and worship. The Apostle Paul writes in 2 Timothy 1:7, "God gave us a spirit not of fear, but of power and love and self-control." This is an exact template of the process David followed. He stopped his pattern of sipping from the poisoned well of dread, worry, and darkness, and turned to the refreshment of his Lord's strength.
Face Your Fear with Courage
Courage is not the absence of fear. It is standing up under the barrage of threats because something—or someone—is more real than the immediate threat. He steps toward the fear, realizing "what can flesh do to me?" He pushes back, takes back stolen energy and time, and even taunts the former intimidator.
Allow Fear to Lead you to the Rock
Fear is a recurring cycle that comes every day in some form. But God has not left us alone. We have examples that have walked ahead of us.
And, we have the living presence of God as a refuge and help when darkness seems overwhelming.
So, in this sense, fear can serve a good purpose. As fear removes our self-sufficiency and escape mechanisms, let's recognize our need for help and run to the Rock who holds in the storm.
---
Read the Full Passage of Scripture:
Psalm 56 (ESV) - Bible Gateway
To Receive More Hope and Inspiration: