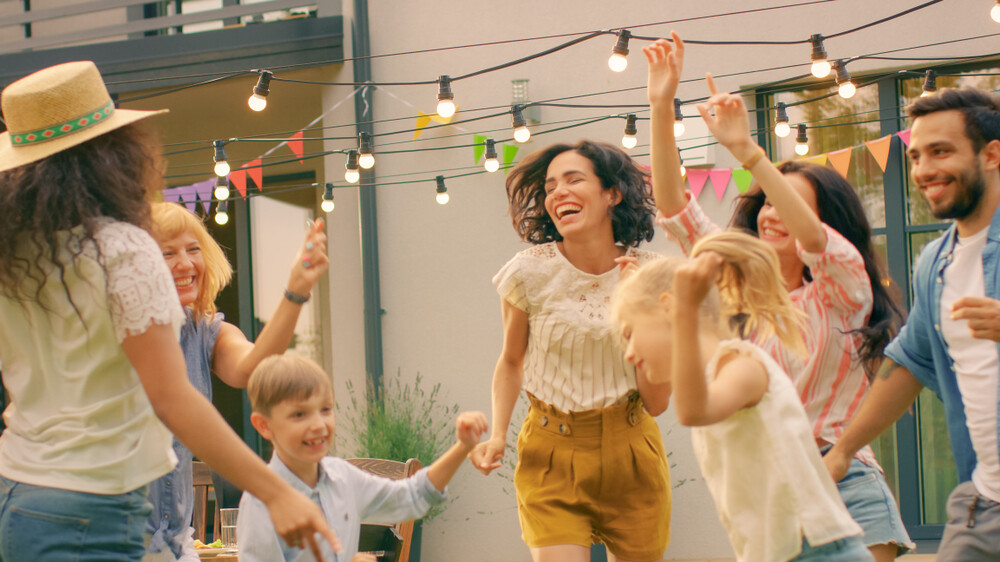 From the time off school to the days at the pool. The warm, cozy nights to the outdoor lights. The blazing sun to the weekends of fun. It's that time of year again. June is here and it's time to soak it up, savor the moments, and make some memories.
In Minnesota, we all know the summer days don't last long, so take advantage while you can. Get outside as much as possible. Spend time with family and friends. Connect with your neighbors and your community in a deeper way. Make it fun. Make it memorable. And make it meaningful!
Make this summer a time for connection.
Why slow down? Why take the time? Because pressing pause on your own crazy calendar to intentionally connect with others tells them that they matter. Unplugging from your own chaos and clutter to make time for others tells them that they are seen, loved, and cared for.
By opening your home (or your backyard!), you foster friendships, deepen connections, and build relationships – some to last a lifetime.
I've put together a list of some incredibly fun, backyard, summer party ideas to enjoy with your family, friends, and neighbors to make connection a special part of your summer nights. If you live in a townhouse or apartment and you don't have a backyard, don't worry! You can try some of these same ideas at a neighborhood park.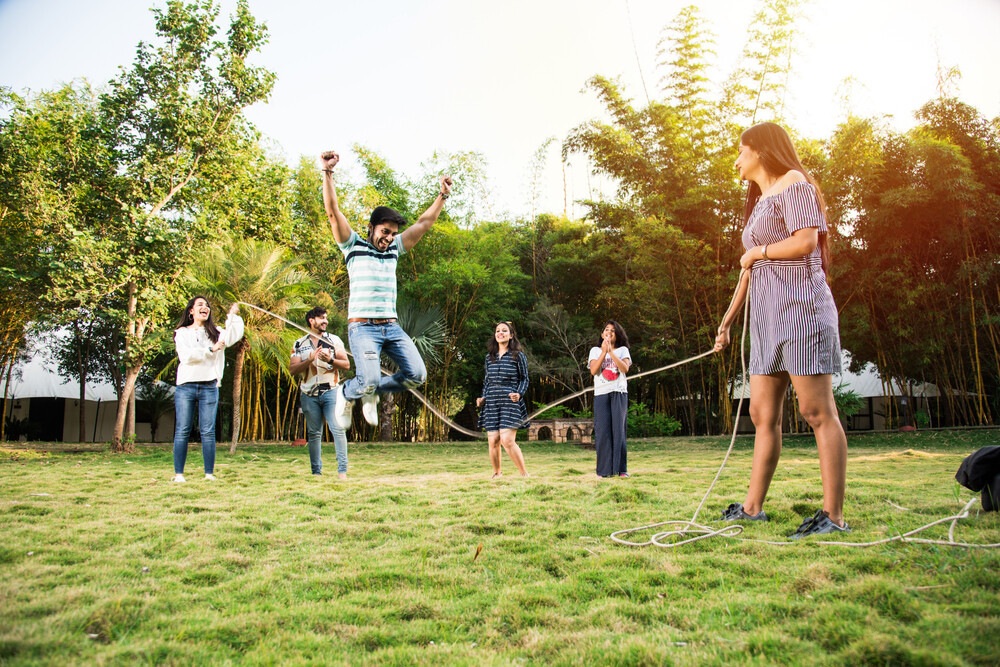 Consider these ideas for connection.
1. Host a dessert social. On a hot summer night, there's nothing better than a refreshing scoop of ice cream, a rootbeer float, or a slice of fruity pie. Get creative. Instead of Friday, make it Pie-Day! If you're having rootbeer floats, consider mixing it up by trying something new from this fun list of ideas. If you're serving ice cream, invite everyone to bring their favorite topping or try one of these totally unique ones. I bet they'll be a first for everyone and will be sure to get them talking. After all, that's the goal, right?
2. Throw a fiesta (or Mexican-themed night). Gather all the fixings for a build-your-own-taco bar. Don't forget the chips and salsa and jarritos sodas on the side. If you want to go all-in, mix up a fiesta salad and make a traditional Mexican dessert. Set the mood with some fun Mexican music and bright, fiesta-style serving dishes and table decorations. Keep your guests engaged with some exciting games, and invite both kids and adults to take a swing at a piñata. On a warm day, try making a water balloon piñata. The laughter and fun will encourage the building of new friendships and refresh old ones.
3. Have a "Light Up the Night" party. Is there a cause you're passionate about? Maybe it's helping the homeless in your city, making your neighborhood safer or cleaner, working to end human trafficking, or helping kids with a terminal illness. Connecting over a cause brings you closer as you share in meaningful work. Hang tree lights and other outdoor lights, set up some outdoor lanterns, get a bonfire going, and have glow sticks on hand for the kids. Invite your neighbors or friends and together plan ways to "be a light" for a cause in your community.
4. Host a "Meet-Your-Neighbors" night. Invite your neighbors to bring themselves and a favorite snack or finger food for an evening of connection on the patio. If you're concerned people won't know what to talk about, have a list of simple but fun questions that guests can grab as they arrive. Or, have them mingle and share their responses to prompts such as this one. Everyone will learn more about each other and their city to become more connected. Consider setting up a photo booth to take family portraits. Get permission to print the photos and create a simple neighborhood directory with the address, phone numbers, and emails of the adults in each household. Give a copy to each neighbor so you can be there for one another in times of need and emergency.
5. Throw a backyard beach bash. Set up a net, grab an inflatable beach ball, and dive into loads of fun. Play some beachy music and serve some refreshing treats and drinks. Consider these 40+ homemade popsicle ideas or this copycat Chick-Fil-A frosted lemonade to help your guests beat the heat. If you want to be a bit more festive, buy some brightly-colored leis for all guests to wear.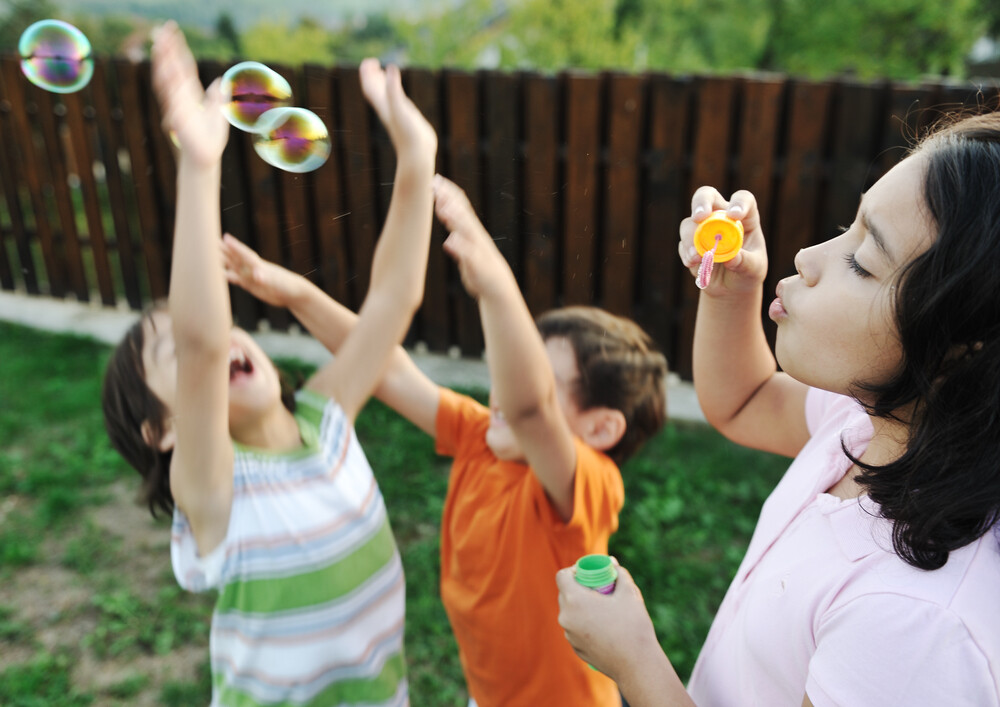 6. Host a fun fling for the kiddos. Grab a few other parents and set up different stations throughout the yard with exciting activities such as giant bubble wands, chalk art, a beanbag toss, rock painting, water balloons, tie-dying T-shirts, and more! Kids will have a blast and parents will connect as they work together.
7. Have an outdoor movie night with your favorite snacks and campfire popcorn. Set up lawn chairs or make the grass cozy with pillows, blankets, and outdoor lights. If you plan to do this often, it may be worth investing in a screen. Otherwise, you can make your own by hanging a large white sheet. Check out this blog post for all the things you'll need to have a successful movie night under the stars.
8. On a cooler evening, host a good, old-fashioned bonfire. Roast hotdogs and put together a charcuterie board with some fun, new fixings for s'mores with a twist. Then gather 'round and spend some time getting to know one another. Encourage guests to share a funny or inspirational story or gather some conversation cards to prompt engaging discussion around the fire. Check out Google and Amazon for some conversation card ideas or make your own.
9. Set up an outdoor family game night with all your favs – such as cornhole, croquet, ladder ball, giant Jenga, lawn darts, and more. Check out this site for a more extensive list. Turn it into an exciting evening of competition, or play just for fun. If you're feeling extra brave, consider adding outdoor karaoke to your list of games to spice things up a bit. This might be a fun way to bring the teens of your neighborhood together for some smiles.
10. Gather information about your neighbors' interests and host an activity night based on what you discover. Consider having a men's or women's night out in your yard. Host a backyard book club or a crafting night on the deck, throw a garden tea party or gather some buddies and your favorite appetizers to enjoy a board game night on the patio. It's always a plus when you can connect over shared interests.
(If you're looking for more creative ideas for your next outdoor party, check out these from the Krazy Coupon Lady.)
Connection most definitely matters.
It fuels belonging in an age of loneliness. It ignites a light to brighten the darkness. It bestows a shelter amid the storms of life. And it rekindles a hope at a time when it's needed most. It tells others: "I'm here. I'm available. I'll walk with you. And you don't have to do this life alone."
The list above is only a starter list of the endless possibilities. Have fun creating your own ideas too. Whatever you do, just make time to slow down. Take time to pause. And take time to connect.
So, whether it's over a barbecue, a bonfire, or a tasty scoop of ice cream, this summer, may the joy of connection lift your heart, lighten your load, and refresh your spirit – because life's moments are meant to be shared!
---
Want to connect but unable to host your own gathering?


Check out these events at Berean. There's something for everyone!

And more by clicking here!
---
Read More on the blog: