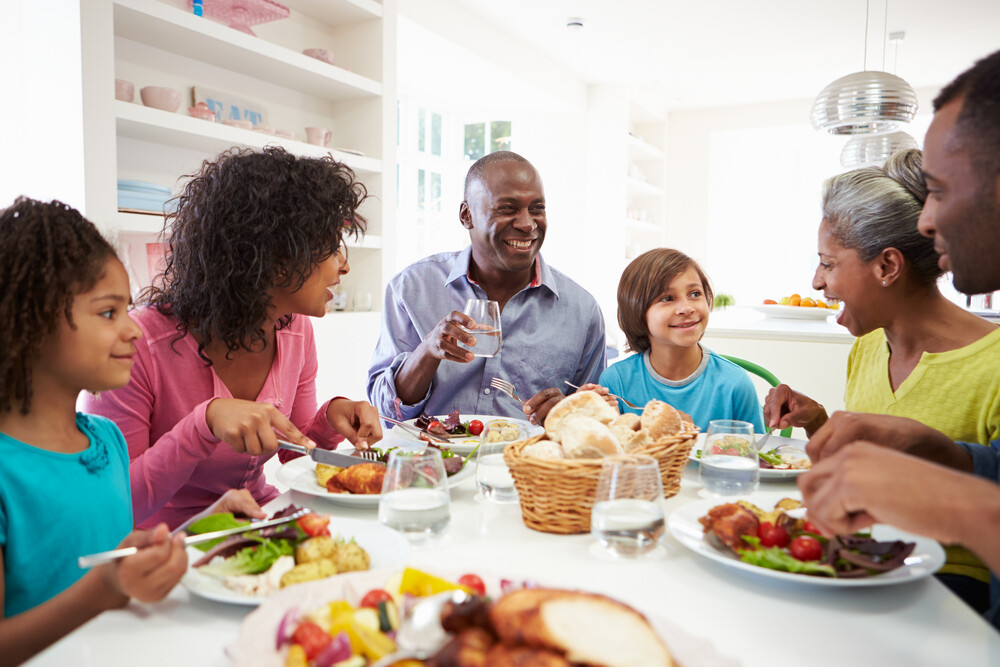 Thanksgiving is a wonderful time of year when we gather with friends and family to enjoy a tasty meal, some football, and maybe some Black Friday shopping. But if you are hosting a big family meal, it can be a huge source of stress and leave you feeling quite unthankful. Planning a large meal and making sure there is room for everyone at the table (or in your house). Then thinking about if your house is decorated just right to be social media-worthy can simply make this the most stress-filled time of the year. What was intended to be a wonderful time of family and thankfulness can leave you wanting to pull the covers over your head and cancel the whole thing.
But with a few simple changes, you can find joy in the holiday and find your thankfulness again.
#1 – Ask for Help.
This might be the most important one on the list! You do not have to do this alone. If you are willing to host, ask guests to bring a side dish or dessert to share. You are doing the heavy lifting by providing a place for everyone to gather. Your guests will be honored that you asked them to bring their 'famous' green bean casserole and it will remove one extra thing from your to-do list. Or maybe ask a cousin who loves décor to help make the house look festive and find a centerpiece to create a beautiful table.
#2 – Clean Your House Now (well, most of it).
Don't wait to clean the house until the week of Thanksgiving. With all the other prepping you have on your list, this will push you over the edge. There is not enough time in the week for all of that. Put together a schedule to clean one to two areas per week leading up to Thanksgiving. And on that note – every inch of your house doesn't need to be spotless. You can do a deep clean of the areas where your guests will be. There is no reason to clean out the spare bedroom if no one is staying at your house. Close the door and move along. Enlist the kids (if you have them) to help with this one. Even a small child can grab a rag and dust the handrail or wipe down the dining room table. You don't have to do this alone.
#3 – Not Everything has to be Homemade.
You may cringe but this is still true . . . not everything you eat at Thanksgiving must be homemade. Maybe baking isn't your thing. And maybe your family member (who shall remain unnamed) shouldn't be making a pie either. Getting a little help from a great local bakery is a big win for everyone. This will save you time and energy and you can support a local business all while enjoying yummy desserts. And dessert isn't the only thing you could outsource – maybe it's dinner rolls or even the turkey. Anything that helps you out and still creates a wonderful time for your family will reduce your stress.
#4 – Set a Simple Table.
You do not need to bring out every piece of your china and crystal to have Thanksgiving dinner. This can be a big stressor because many of these pieces must be washed by hand. No one wants to do the dishes after the Thanksgiving meal, especially the ones that can't go in the dishwasher. So why not make it simple this year and use disposable plates and silverware? You can find nicer options at many party stores and online. They still look nice and make cleanup a breeze.
#5 – Be Grateful.
Take a moment for yourself before your favorite people arrive to be thankful. Remember that these moments with family and friends are precious and this may be the one time a year that you see that special loved one. Be thankful that you have a place to host them. Be thankful that you have these people in your life (in the good times and the bad). Pause to reflect and look around you. This moment of gratitude will help you enjoy this day so much more.
This Thanksgiving, Focus on the Memories.
Take these simple steps to make Thanksgiving a little less stressful for you. When you reset your own expectations of yourself and discover you don't have to do this alone, you will enjoy the moments with family and friends around the table. Make the prep, the meal, and the day a family affair and create wonderful memories for years to come.
Wishing you and your family a blessed Thanksgiving!
---
Read more on the blog: