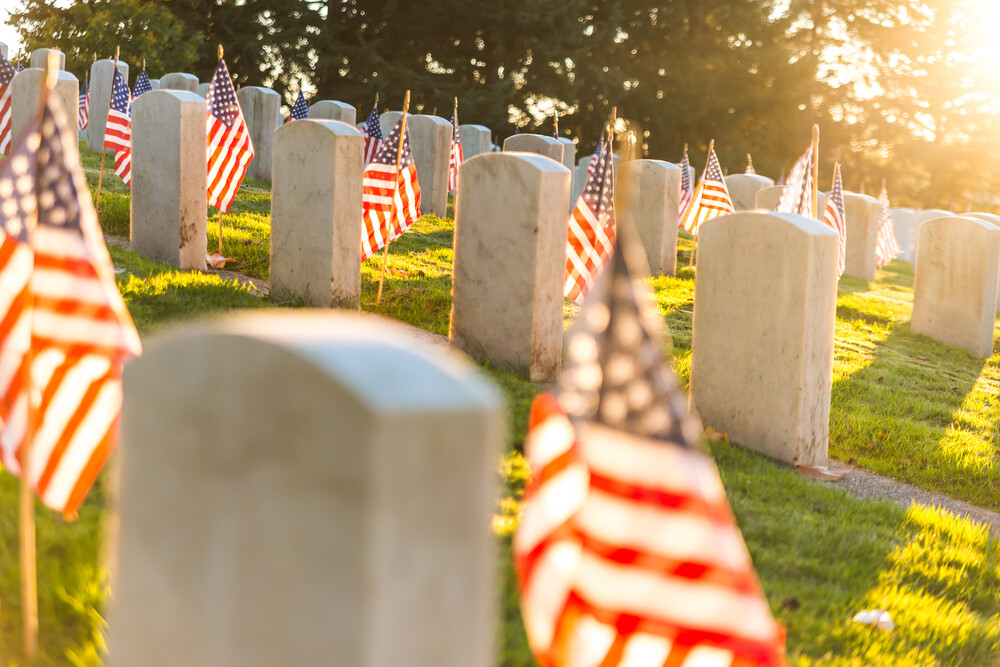 Fly your flag high and thank a veteran and their family - Memorial Day weekend is almost here!
It's time to honor those who have served our country in the military, sacrificing in so many ways, sometimes with their very life. Their sacrifice demands honor from those of us enjoying the extraordinary gift of freedom. Our country is not perfect, but if you talk with those who have lived in other places, they typically would say that we are very fortunate to live in the United States of America.
As I was thinking about writing this blog for Memorial Day, I came across "The Soldier's Creed." There are several places in the Bible comparing the Christian life to that of a soldier, and as I read the 12-part profession of the Creed, I noticed the striking parallels. So, I matched up our faith alongside this "Soldier's Creed." Let's take a look!
The Soldier's Creed and Biblical Parallels


1. I am an American Soldier.

I am a follower of Christ.
"Share in suffering as a good soldier of Christ Jesus. No soldier gets entangled in civilian pursuits, since his aim is to please the one who enlisted him" (2 Timothy 2:3-4).
2. I am a warrior and a member of a team.

I belong to and serve in and through my local church.
"For as in one body we have many members, and the members do not all have the same function, so we, though many, are one body in Christ, and individually members one of another" (Romans 12:4-5).
3. I serve the people of the United States and live the Army values.

I serve Christ and the living Church and seek to live by biblical truths.
"As each has received a gift, use it to serve one another, as good stewards of God's varied grace" (1 Peter 4:10).
4. I will always place the mission first.

I will always seek to serve Christ and the living Church first.
"For those who live according to the flesh set their minds on the things of the flesh, but those who live according to the Spirit set their minds on the things of the Spirit" (Romans 8:5).
5. I will never accept defeat.

I will stand firm against the Enemy.
"Therefore take up the whole armor of God, that you may be able to withstand in the evil day, and having done all, to stand firm" (Ephesians 6:13).
6. I will never quit.

I will endure, even in suffering.
"Not only that, but we rejoice in our sufferings, knowing that suffering produces endurance, and endurance produces character, and character produces hope, and hope does not put us to shame, because God's love has been poured into our hearts through the Holy Spirit who has been given to us" (Romans 5:3-5).
7. I will never leave a fallen comrade.

I will come alongside fellow believers who are hurting.
"Bear one another's burdens, and so fulfill the law of Christ" (Galatians 6:2).
8. I am disciplined, physically and mentally tough, trained, and proficient in my warrior tasks and drills.

I will live a disciplined life, through the power of the Holy Spirit.
"But I discipline my body and keep it under control, lest after preaching to others I myself should be disqualified" (1 Corinthians 9:27).
9. I always maintain my arms, my equipment, and myself.

I will be prepared for spiritual warfare.
"Therefore take up the whole armor of God, that you may be able to withstand in the evil day, and having done all, to stand firm. Stand therefore, having fastened on the belt of truth, and having put on the breastplate of righteousness, and, as shoes for your feet, having put on the readiness given by the gospel of peace. In all circumstances take up the shield of faith, with which you can extinguish all the flaming darts of the evil one; and take the helmet of salvation, and the sword of the Spirit, which is the word of God" (Ephesians 6:13-17).
10. I am an expert and I am a professional.

I will accept trials, knowing that God uses them for my spiritual growth and maturity.
"Count it all joy, my brothers, when you meet trials of various kinds, for you know that the testing of your faith produces steadfastness. And let steadfastness have its full effect, that you may be perfect and complete, lacking in nothing" (James 1:2-4).
11. I stand ready to deploy, engage, and destroy the enemies of the United States of America, in close combat.

I stand ready to engage and fight the battle before me.
"For the weapons of our warfare are not of the flesh but have divine power to destroy strongholds" (2 Corinthians 10: 4).
12. I am a guardian of freedom and the American way of life.

I will live in the freedom of Christ, regardless of my personal situation.
"For freedom Christ has set us free; stand firm therefore, and do not submit again to a yoke of slavery" (Galatians 5:1).
Becoming Committed Soldiers of Jesus Christ


As I reflect on these spiritual statements overlaid with "The Soldier's Creed," I am reminded of a number of things. Jesus sacrificed to give us a life of true freedom when he died for us on the cross. As he has given us so very much, we are called to follow him as his committed soldiers through this life. What are some ways we can do this?
Be involved and make a difference.
Philippians 3 reminds us to focus on the prize while 2 Timothy 2 tells us not to be distracted by affairs of this world. That doesn't mean we are not to engage with the world where God has placed us. C. S. Lewis said, "The Christians who did the most for the present world were just those who thought the most of the next." So yes, be involved and make a difference.
Commit to service through a local church and walk in love.
Second, we have the benefit of doing this together, with fellow believers. Just like a soldier commits to service, believers can do so through a local church. Pastor Mark Dever said, "Church membership is our opportunity to grasp hold of each other in responsibility and love."
The term "one another" is used 100 times in the New Testament. In this time of great division in our society and our world, Christians should be known for their love for one another.
Are we known for loving and holding others accountable, and are we allowing them to do the same for us?
Walk alongside those who are hurting.
Also, we know that the Bible tells us that in this world there will be suffering. In our culture, we often want to pull ourselves up by our own bootstraps, to just do it alone. I recently saw a video of two Christian high school friends who have met annually (along with 3 others) for 25 years. Years ago, one of them was hurting emotionally – big time. He was talking to his friend on the phone and his friend told him in no uncertain terms to "get down here" (they lived in different states) so he could walk alongside him. Are we willing to be vulnerable and share with friends when we are hurting?
Be alert and prepared for the attacks of the Enemy.
How about spiritual warfare? That can be a scary concept, but the reference to Ephesians 6 above reminds us of the battle that we are in. The Enemy would love to distract us with busyness and earthly distractions - some of them may even be "good." (Read The Screwtape Letters by C. S. Lewis for examples.) In 1 Peter 5, we are told to be alert because the Enemy prowls like a lion. Lions are sneaky as they distract, separate, and then attack. Do we prepare ourselves daily for the spiritual battle before us?
Let trials lead to growth.
When adversity comes – and it will come – how do we respond? Do we recognize that trials and suffering can lead to spiritual development and godly character? Is that easy? Nope! That is why we have fellow believers, God's Word, and the Holy Spirit to encourage, guide, and strengthen us. Great comfort rarely brings great growth. How many times have we experienced or heard someone talk about how they grew spiritually through difficult times?
Live free in Christ.
Lastly, we are free in Christ. Freedom in Christ leads us to do what we ought, not what we think we want, and without Christ we are slaves to sin. Jerry Bridges said, "If you are going to experience the joy of your freedom in Christ, you have to decide whether you will please God or people."
On this Memorial Day weekend, as we remember our soldiers who have given so much, let us also remember our Savior who has given so much. Let's live as well-equipped and committed soldiers - knowing that we are indeed free in Christ!
---
Read More: