"Dare to be a Daniel."
When you hear about the Daniel of the Bible, what comes to mind? Perhaps you recall that fun song from your childhood, the familiar story of Daniel's friends in the fiery furnace (Daniel 3:1-30), or Daniel's own encounter in the lions' den (Daniel 6:1-28). But beyond just those familiar songs and stories, how often do we ask ourselves what was happening behind the scenes of those key moments? What would we see if we could pull back the "curtain" and truly look at the heart of Daniel?
If we could pull back the "curtain," we would see Daniel's sincere desire to be face down humbly submitting to God in prayer.
Daniel had a heart to stand, and his heart to stand had everything to do with his posture of kneeling.
The very act of praying is a very physical posture of kneeling. It reminds us of our dependence on God and the need to surrender our hearts completely to him. As we study the life and prayers of Daniel, there are two simple action steps that we can apply to our own relationship with God: Start praying and keep on praying!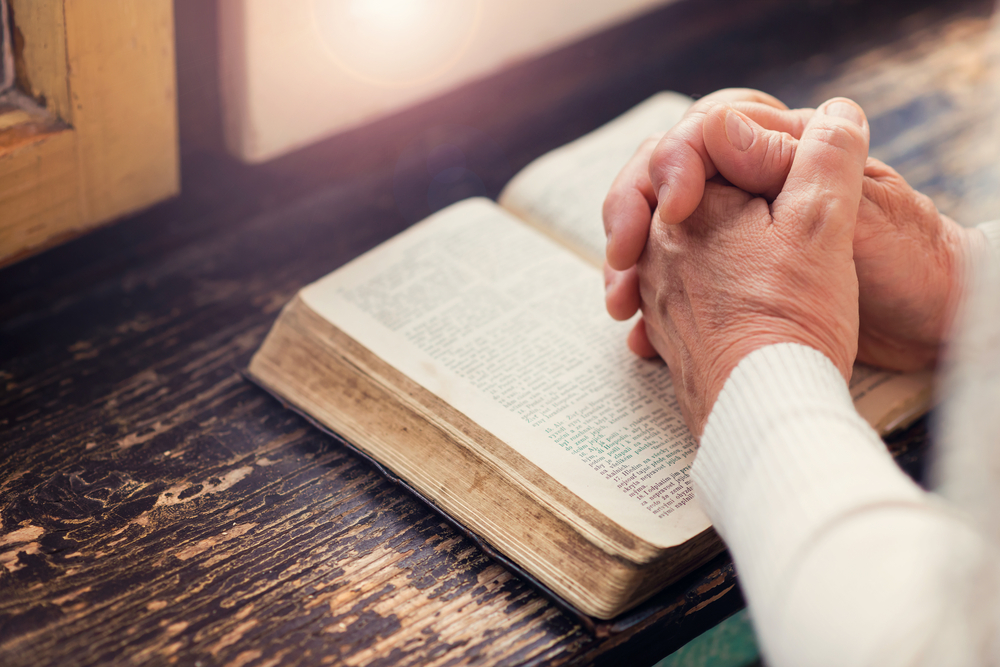 1. Start Praying: Be Intentional to Talk to the Lord.
Daniel didn't accidentally stumble into prayer. He intentionally made time to be with the Lord. In Daniel Chapter Two, when all others were panicking to interpret the King's impossible dream, Daniel requested time to give the King an answer. This allowed him to go back to his room to pray and actively seek the Lord's guidance (see Daniel 2:16-17).
Daniel made time to pray. When he faced situations when he didn't know what to do, he always started in prayer. As believers in Christ, whenever we face the unknowns of life, the best place for us to begin is to pray to the Lord. If we do not simply begin praying, when will we ever start? If we tell ourselves that we will do it later, but we do not have a strategy, the delay will only continue. We simply must begin!
Running to God in prayer should not just be something we do when we "feel" like it or when it's convenient. Prayer should not be our second or third response. Daniel's prayer time was his number one priority, and it must always be our first response as well.
Paul echoes this posture of prayer in 1 Timothy 2:1 when he says, "First of all, then, I urge that supplications, prayers, intercessions, and thanksgivings be made for all people."


2. Keep on Praying: Be Consistent in your Prayer Life.
Daniel continued in his devotion to God in prayer because it was his way of staying in communion and fellowship with the Lord. The discipline and devotion of prayer should not just be a checklist we strive to get through; nor should it be just to "get something from God." We must actively pray to know him and to be in his presence.
The bottom line for Daniel was that he never stopped communing with the Lord. He never failed to set aside time in his prayer room. In the empire of Babylon, Daniel served through the succession of multiple pagan kings. Even this did not cause him to despair because he had a personal relationship with the one true King who mattered. Daniel ultimately knew God was the one in charge and he alone was in control. It says in Daniel 6:10b that "he got down on his knees three times a day and prayed and gave thanks before his God, as he had done previously." Notice the keywords, "as he had done previously." They imply that this was not the first time Daniel cried out to God. Rather, he had been kneeling before God on a consistent basis.
God is the one who hears our cries, pleas, and requests and Daniel rested fully in that truth. His heart to stand had everything to do with the consistency of his prayer life.
Even when King Darius punished him and sent him to the lions' den because of his prayers, he didn't stop. In fact, we might even say that Daniel was not in the lions' den. Rather, the lions were in Daniel's praying den! In the face of the lions, Daniel did not waver in his devotion to pray and seek the one who shut the mouths of the lions.
Talking to God in Prayer Builds a Personal Relationship with Him.
What will keep us going when we face the uncomfortable, unpleasant, and unknown situations of this life? As believers in Christ, we must make time for prayer. God hears every single prayer, even the unspoken ones of our hearts, and he desires to have a personal relationship with us. We must keep on talking to God in prayer to maintain that sweet communion. We know that nothing on this earth can ever separate us from the love of God in Christ, and when we pray, Jesus intercedes for us to the Father. We are reminded of this truth in Romans 8:34-35:
"Who is to condemn? Christ Jesus is the one who died—more than that, who was raised—who is at the right hand of God, who indeed is interceding for us. Who shall separate us from the love of Christ? Shall tribulation, or distress, or persecution, or famine, or nakedness, or danger, or sword?"
Let's Dare to be a Daniel!
As we continue in our Daniel sermon series here at Berean Baptist Church, I highly encourage each one of you to go back and watch/listen to the messages if you haven't already. Daniel was a man sincerely and humbly devoted to the Lord in prayer, and he had a true heart to stand. Collectively, as a faith family, we must pursue the spiritual disciplines that we see in the incredible life of Daniel!
---
Watch the Daniel Sermon Series Here: