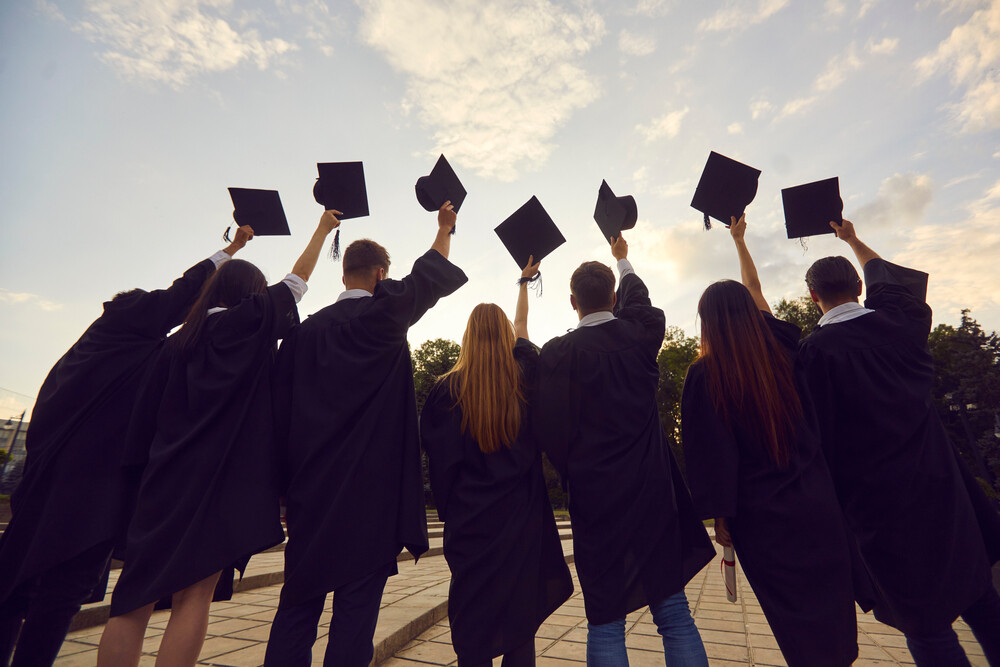 Living in Kansas and growing up in the country, the first time I ever drove a vehicle was when I was twelve years old. I got a summer job with the farmer down the road to help stack hay bales. What I didn't know when I showed up on the first day was that he wanted me to drive his pickup truck with a trailer behind him on the tractor and stack the hay bales as we went. I had no idea what I was doing when he gave me the keys. He looked at me and said, "Don't go too fast, don't make tight turns, and don't wreck." I made it through the day without doing the first two. Unfortunately, I didn't follow his third "don't." That was my last day working for him.
I look back at that situation, and while I was excited to drive for the first time, it would have been so much better if he had told me what was okay to do instead of what not to do. As a graduate of high school, you too are going to be stepping into a new chapter that is both exciting and scary. While your anxiety might grow every time someone gives you advice on what not to do as a new graduate, I think it can be more helpful to focus on what is okay to do.
So, here are three things that you should remember are okay to do to help you avoid any wrecks as you start this great adventure!
1. It's okay to take a breath.
With everything that surrounds major life changes, one of the things that people rarely do is rest. The feeling of urgency can overwhelm you as you try to transition into a new paradigm. Sometimes we forget that our souls need rest in order for us to let God use us.
In Matthew 11:28-30, Jesus says, "Come to me, all who labor and are heavy laden, and I will give you rest. Take my yoke upon you, and learn from me, for I am gentle and lowly in heart, and you will find rest for your souls. For my yoke is easy, and my burden is light."
Jesus isn't talking about giving you time to nap and recharge; he's talking about providing true rest for your soul.
In this passage of Scripture, the Jewish people whom Jesus was talking to had felt a great burden of striving to impress the religious leaders of that time - and ultimately impress God. Jesus is saying that you no longer need to feel that kind of pressure. Instead, let him give you a time of refresh.
2. It's okay not to know.
As a senior, I am sure you are constantly asked the questions, "What are you doing next year?" or "What are your plans for the future?" While having plans and goals are good, it is okay to not know exactly what you are going to do with your entire life at the age of eighteen. In fact, studies show that around 80% of college students will change their major throughout their college education.
Sometimes we feel such a need to have all the answers that we forget to let in the One who does have all the answers and allow him to guide us through the process.
God gives a promise to David in Psalm 32:8: "I will instruct you and teach you in the way you should go; I will counsel you with my eye upon you." The comfort in knowing that God has a plan should relieve you of the fear of not knowing.
3. It's okay to feel like you can't do it alone.
Graduation, college, picking classes, job applications, future plans, growing up, and becoming an adult . . . it can all feel very overwhelming. Fortunately, you don't have to go through it alone. In fact, God has created us for relationship to help each other through this life.
The lie that we should be strong and that we shouldn't need help is something that Paul instructs against when he writes to the church in Thessalonica. In 1 Thessalonians 5:11, Paul says, "Therefore encourage one another and build one another up, just as you are doing."
It's okay to need others for support. That is why we want you to know that your church family at Berean is always here for you!
Embrace your new adventure!
So, as you step into this unknown, new adventure, it may seem like driving a car for the first time with no instructions. But, it's going to be okay. Take a breath, know that God has a plan, and realize that you have an entire church rooting for you!
---
Read More: