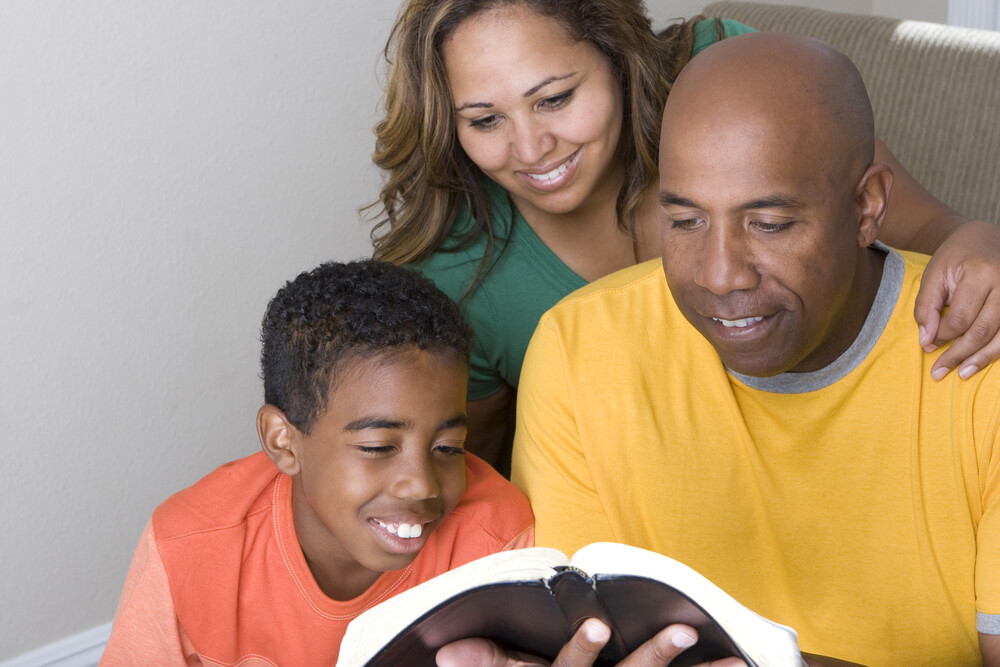 Can you believe we're already beginning our third week of the new year? Perhaps you're still trying to get started on that list of things you want to implement this month. Maybe for some of you, creating a time for family devotions is on that list.
Cultivating a time for studying God's Word together as a family can feel challenging, especially for families whose children span multiple ages, but it's so important! Thankfully, there are many options for how each household's family devotion time can look. Finding what's best for your family may 1) involve trying a few approaches until one works, 2) appear differently over time as needs change and children become more independent, and 3) incorporate tools such as a family Bible study book.
Make sure to engage the whole family in family devotion time.
When doing devotions together as a whole family, it's best to find a schedule and approach that engages all involved. Here are a few ideas of how this can look:
Have a parent facilitate the discussions but allow older children to read the passages. Actively ask the younger children questions too.
Have older children do some journaling of the Scripture passages or use the S.O.A.P method of Bible study (Scripture, Observation, Application, and Prayer) while younger children trace the passages and/or draw a picture of what they are learning.
Incorporate worship music, especially Scripture-based songs. This is an easy way to engage all ages in learning God's Word together.


Consider breaking into groups for family devotion time.
Depending on the ages, the number of children, and the relationship between siblings, it may be a good fit for some families to break their studies into smaller groups for regular devotional time. This can look like an older sibling mentoring and leading a younger sibling through the use of a child's devotional book while allowing a parent to use a suitable devotional study with another child or group of children. Splitting into groups or pairings in this way allows for greater flexibility in when these studies can take place, as they need not be done at the same time.
Consider one-on-one studies for deeper discussions.
As children reach the preteen and teen years, one-on-one devotions with a parent can be an opportunity for going deeper into discussions surrounding the application of Scripture to current life circumstances. For this reason, a parent may find that it works best for a season to study with one child individually and facilitate group devotional time with the other siblings at a different time of the day or week. Between Us Girls by Trish Donohue is a great study book to encourage mother-daughter conversations at this level and Between Us Guys by Joel Fitzpatrick for father-son conversations.
Find a book that is fun and relevant to your family.
Finding not only the right approach but also a devotional book that is relevant to your family and spans the interest of multiple age levels can be very helpful. One example is the interactive family devotional by Tim Shoemaker called Mashed Potatoes, Paintballs, and Other Indoor/Outdoor Devotionals You Can Do with Your Kids. As the title indicates, this fun devotional includes games and physical activities that engage the active family. Or for the scientific and nature-loving family, Louie Giglio's Indescribable, which draws on the wonders of the created world, might be a great fit.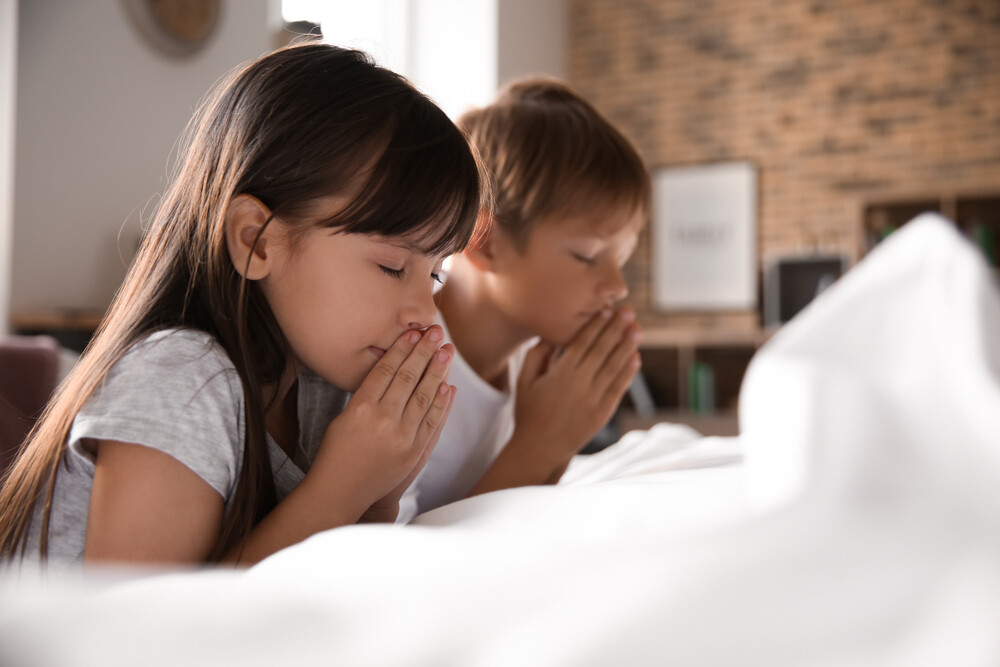 Make prayer a part of your family devotions too.
It's easy for our kids to ask for prayer for their own concerns, but it's important to teach them to pray for their friends as well. Deb shares that one way to do this is through our Small Groups. Berean has a number of different Small Groups to choose from, several of which include kids. As your Small Group shares prayer requests with one another, help your children see the importance of supporting each other in prayer. Then, weave the prayer requests and prayer time into family devotion time. Deb says,
"We started a prayer and praise journal when the kids were in their middle school years. I thought it was important to let them see and record how God was working in the lives of those they cared about."
Family devotions may matter to our kids more than we know.
The times of family devotions that you do with your kids now may stick with them for many years to come. Deb shares a beautiful reflection from one of her now adult daughters of how impactful family devotion time was to her as a kid. Her daughter said,
"When I was younger, my favorite part of the day was listening to you (mom) read us a bedtime story or a chapter out of the book you were reading to us, which was always followed by a devotion. You would sit on the floor by Kait's bed while I laid my head on your shoulder or on your lap ready to listen. I always looked forward to this nightly routine because it was a place of comfort, and even more importantly, it was a place of fellowship. At the time, I didn't realize how important daily devotions were, but you did, which is why you made it a part of our nightly routine. During our nightly devotions, we learned important lessons from the Bible that we could use in our daily lives. I think Jordan and Kait (siblings) would agree that this was a key factor in helping us become the people we are today. I cherish the hours we spent together reading a good book and the Word of God."
Every month, Deb had a packet with a sheet of simple verses, songs, stories, and craft ideas that hung on the refrigerator as a reminder to start each day with a song and a praise. She thought it was important to establish a calm bedtime routine, to instill the love of reading into her children from a young age, and to introduce them to the Lord and his plan for their lives. As referenced by her daughter above, they had nightly story time starting before the children were even 1 year old. This included both a bedtime story and a (short) devotion. The kids looked forward to the routine, as it was adapted for every age. As the kids got older, each one chose a book and then Deb would read from a devotional and pray with them. Daily routines also included plenty of Christian music and stories on tape and DVD. Deb says,
"Berean's Children's Ministry Pastors gave us a book when each child was born, and that helped build our library, along with using the books and movies available in Berean's Children's Library. The kids loved picking out their own books!"
Here are just a few resources that Deb recommends:
As Deb reflects on her grown children now, she's so grateful for how they have walked with the Lord during their college years and beyond through small-group Bible studies, service projects, community outreach, short-term mission trips, Campus Crusade for Christ, and the lifelong Christian friends they've made. She's even seen the results of childhood devotions and Bible Study flow into the spouses the Lord provided for her kids and flourish in their marriages.
What we do today matters for tomorrow.
As we continue to move further ahead into 2023, let's all be encouraged to strive toward cultivating a time of family devotions. The routines and lifestyle we set now for our kids matter for tomorrow. No matter which methods or tools you choose, may your family be greatly blessed and grow closer to the Lord as you study God's Word together.
---
Read More on the Blog: