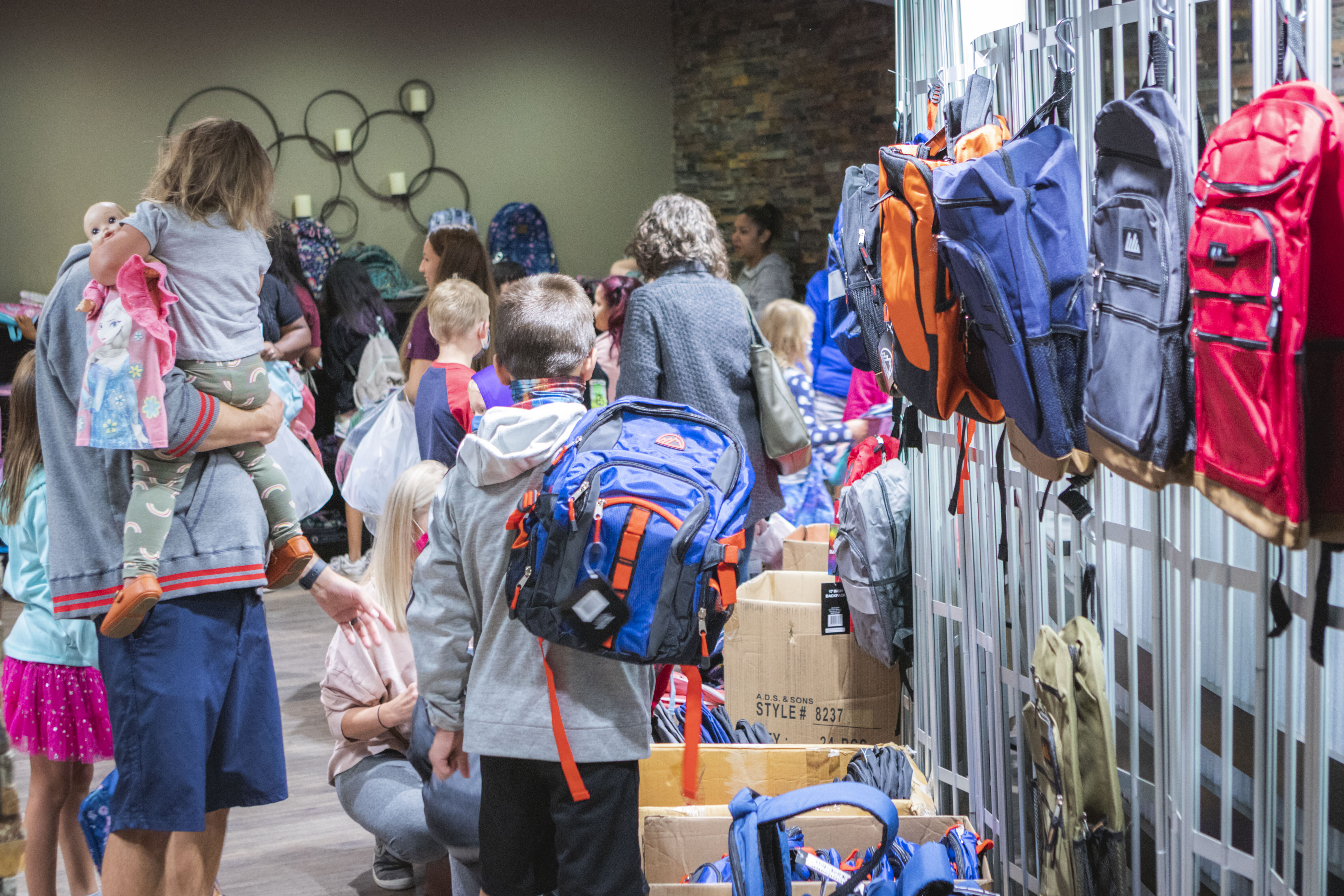 Well, friends, we are in the last month of summer. Can you believe it?
August is usually about the time my family sits down and looks at our list of summertime activities to decide what we want to fit in before school starts. Knowing we won't fit in everything, we prioritize a few things. Usually, this looks like a couple more days at Valleyfair, some final ice cream dates, and of course a trip (or two) to the MN State Fair!
This year, we added one more activity from last year that we LOVED so much: School-A-Palooza.
So, what is School-A-Palooza?
Berean's 2nd Annual School-A-Palooza returns on August 20 and we can't wait. School-A-Palooza is a local outreach event that allows us to serve our community by offering FREE backpacks, school supplies, haircuts, clothing, shoes, and more for students in grades K-12. More importantly, it is an opportunity for us as a church family to share Jesus with our neighbors and the hope that we have in him.
Picture this: Our sanctuary FULL of tables, holding mounds of clothing. A large book area for kids to pick out some fun reads for the year. A complimentary breakfast with open tables to sit, eat, and make new friends. A café transformed into a backpack boutique with school supplies. A hair salon with kiddos getting new hairstyles for school. A parking lot with all the fun bounce houses, face-painting, and more.
Exciting, right?! Last year's School-A-Palooza saw over 1500+ guests. Families from all over Dakota County, speaking a variety of languages, with kids of all ages came through our doors. We loved it so much that this year we hope to double that number. Yes, DOUBLE.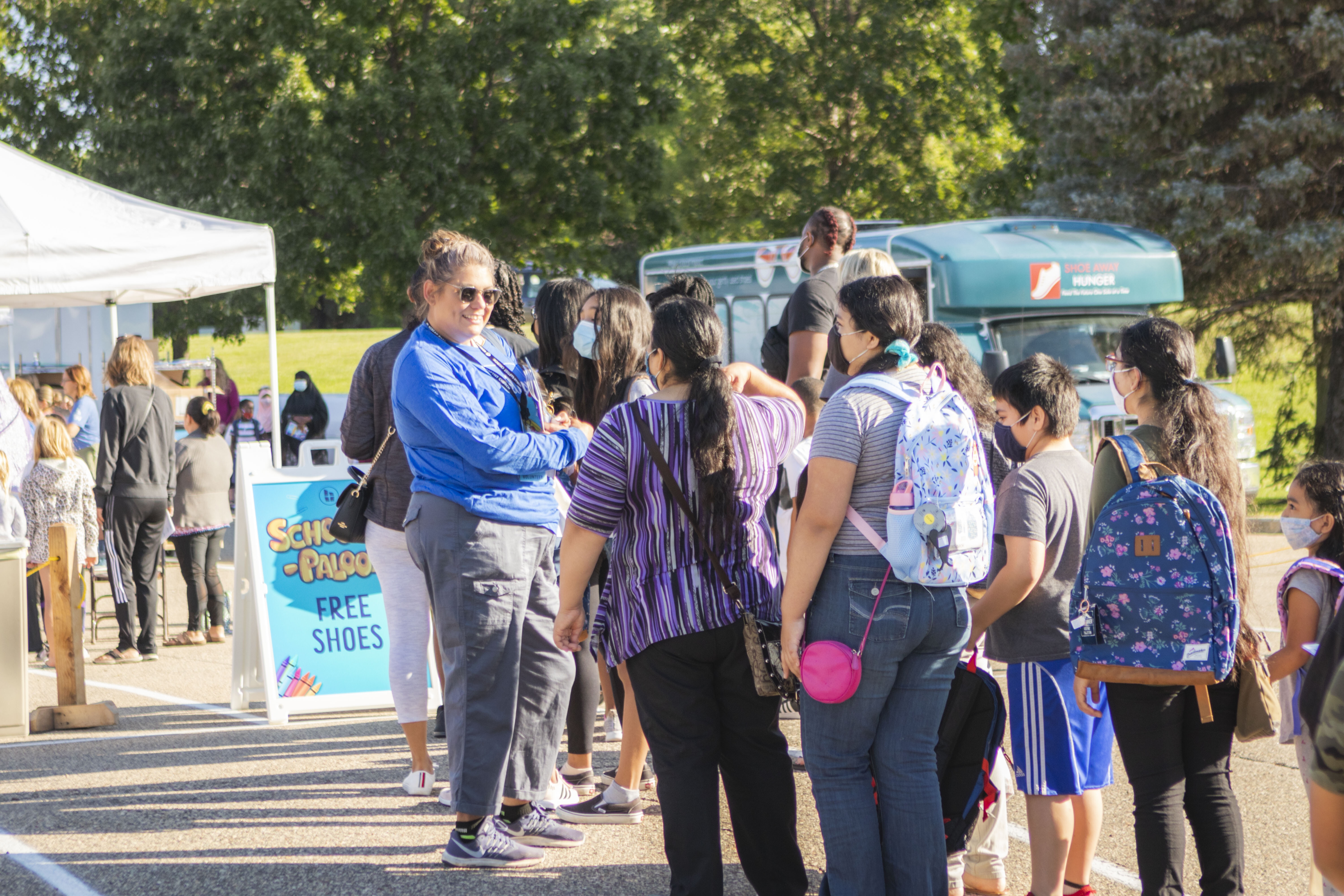 Why should you add School-A-Palooza to your summer activity list?
1. It's a fantastic opportunity to build community and connection.
School-A-Palooza is an incredible opportunity to build relationships and find community as you serve together to share the hope of Jesus. There is something for EVERYONE to do, regardless of age or ability.
Last year, it took over 300 volunteers to make School-A-Palooza happen: line greeters, friendly faces at registration, hairstylists, breakfast servers, clothing shoppers, clothing sorters, interpreters (Spanish, Somali, Russian, Ukrainian, ASL), bounce house monitors, shoe fitters, and more.
Families, Small Groups, and individuals across the generations spent one day together serving their neighbors, finding connection within the church, and making memories.
This year will be no different. In fact, there will be even more opportunities for community and connection (see #2 below).
2. It's an incredible opportunity to share the hope of Jesus.
This year we are adding two training opportunities for all School-A-Palooza volunteers. These times of training are dedicated to helping you become equipped to share the hope of Jesus and build relationships with the guests who walk through our doors. (Volunteers will be able to choose from two training dates: Sunday, August 14 or Friday, August 19). As we meet the physical needs of our guests, we pray for opportunities to also meet their spiritual needs. The haircuts, clothing, and school supplies can open the door to those spiritual conversations.
3. It's a time to celebrate all that God is doing and will continue to do.
Following the event last year, our volunteers joined together for lunch and shared stories from the day. Some stories were about little kids excitedly showing off their new pair of shoes, while others told of the new friendships that had been made. Others shared how they were able to pray with someone and tell them about the love of Jesus and how he could change their life.
School-A-Palooza is about being the hands and feet of Jesus right where you are. As Jesus said in Acts 20:35, 'It is more blessed to give than to receive.'
You're needed for School-A-Palooza.
I don't know about you, but this is how I want to finish out my summer: surrounded by my church family, serving alongside friends I know and friends I have just met for the first time while finding ways to show our community that Jesus loves them.
Would you consider volunteering your time and talent for this awesome event? To learn about the various ways to serve, check out the link HERE.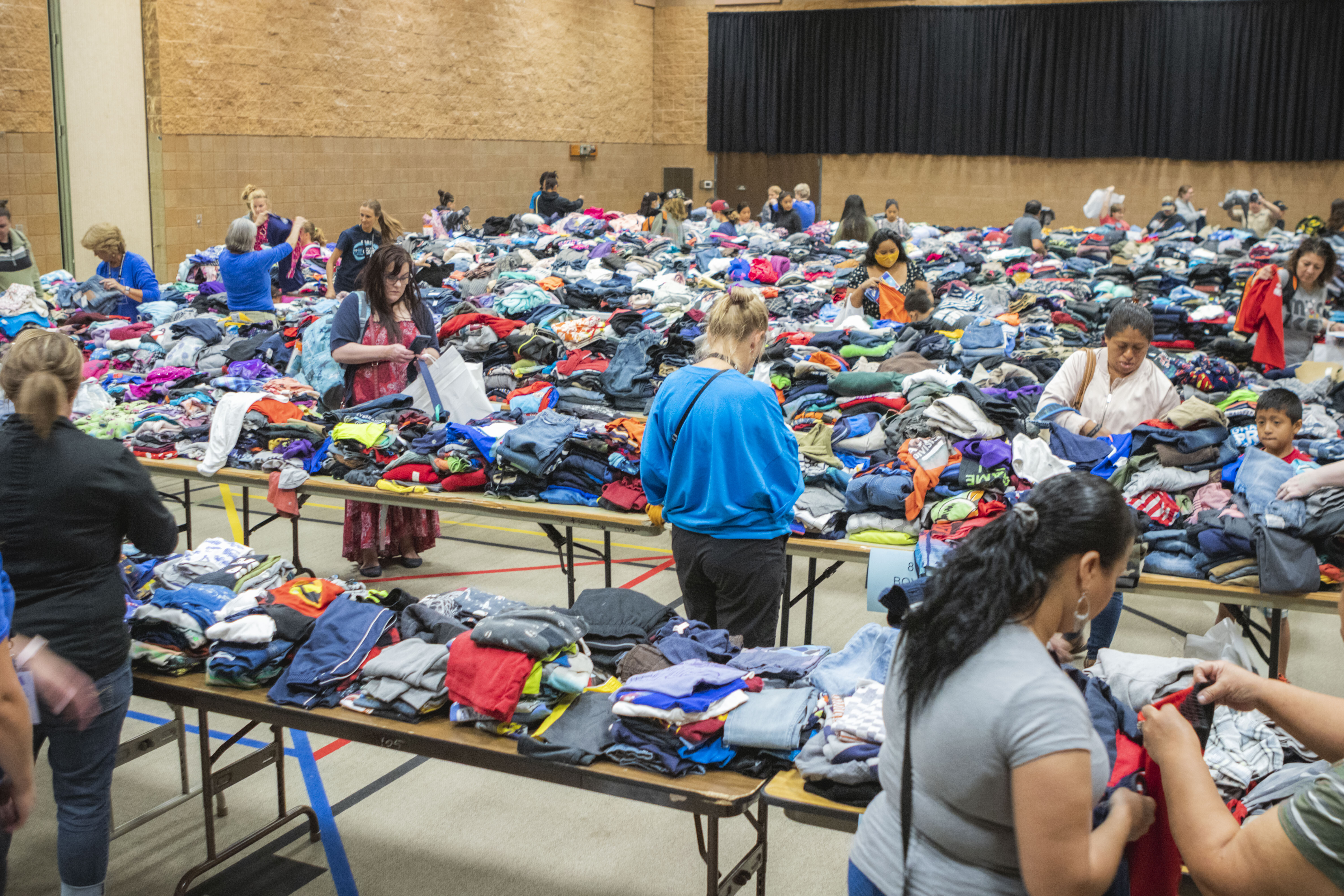 Can't serve the day of the event? No problem!
There are still plenty of ways for both individuals and families to get involved:
Donate clothing, coats, new backpacks, and shoes.
If you're starting some of your own back-to-school shopping, consider picking up an extra backpack, some shirts, or some shoes. I love this because it is a fun way to incorporate younger kids into this event. Or, consider taking an afternoon to do a closet cleanout and invite your friends and neighbors to do the same. We are still in need of more items to make School-A-Palooza happen, and we would love to have those by August 14. We've made it easy to donate at Berean. You can drop your donations into the bins inside the church by door #1. Or, you can drive up to the School-A-Palooza trailer outside door #1 and simply open the back of the trailer and slide your items inside
Donate funds toward the event.
Your gifts help make this memorable event possible. I know that for some, the gift of money can feel impersonal compared to serving at the event, but it doesn't have to feel that way. Maybe your kids are grown and your days of school shopping are over but you miss it. Or, maybe one of your kiddos is having a birthday and you want to celebrate in a special way. A financial gift in honor of someone that you love is always a meaningful gift. To learn more about making a financial gift, click the link HERE and scroll down to select "donate."
Big or small, your gifts all matter and they allow us to reach more families and encourage them to have a successful start to the school year.
Maybe you know someone who would be blessed by this event. A friend. A neighbor. A coworker. Invite them! Visit our registration page and then share the registration link with them.
Sign up for the Set-Up or Tear-Down Team.
There are a few volunteer opportunities that happen prior to and directly after School-A-Palooza. These can be great opportunities for a Small Group or a family to serve together. To learn more, click the link HERE.
Pray because your prayers are needed!
Pray that we will be able to serve our community well.
Pray for opportunities to share the hope of Jesus boldly.
Pray for all the guests walking through the doors of Berean.
There's no better way to finish your summer!
Summer may be winding down, but the opportunity to grow in connection with your church family and be a part of local outreach in your community is just getting started. School-A-Palooza is an exciting event that you don't want to miss. Are you ready to add it to your summer activity list?
Needing some extra help with back-to-school essentials this year?
In this post, I've written a lot about volunteering to serve at School-A-Palooza, but if you are one who is needing a little extra help with back-to-school essentials this year, we want you there too! Whether you're a member or attendee of Berean or a friend or neighbor in our community, we want to come alongside you and help as best as we can. Click the graphic below to register to attend School-A-Palooza and "shop" for your kids in grades K-12!
---
Click below to Register to Attend, Sign Up to Volunteer, donate, or become a sponsor: