What's Happening in BK April 5 - 11
Wednesday (Preteen Grade 4 - 5)
6:30 - 8:00 pm

This Wednesday we begin a new unit called Reconnect, Build the Bridge with the lesson Live in Peace with Others from Colossians 3:15. Bottom Line: We can make peace with others. The Key Question kids will answer is: Who do you need to make peace with?
*Click HERE to learn more and how you can continue the discussion at home.
*Click HERE for the Preteen Weekly Devotional. Kids can use this daily to spend time in God's Word.
Sunday (Age 0 - Grade 5)

See WEEKEND PROGRAMMING below for more details.
This week we continue in the unit called, The Early Church with the lesson Doers of the Word from James 1-2. Kids will be challenged to not just listen to the Word, but to do what the Word says.
*Click HERE to get a more in-depth overview of this week's story.

Church At Home (Age 0 - Grade 5)

Choose the age group below that works best for your family. Click the links to watch the story, continue the learning with activities, and download this unit's memory verse. Click here to learn how to use the content at home.

Preschool & Kindergarten
Nursery Age 0 - Age 2 Story
Age 3 - Kindergarten Lesson Video
Activity Pages
Unit Key Bible Verse
Elementary (Grade 1-3)
Video
Activity Pages
Unit Key Bible Verse (partial for memorization)
Unit Key Bible Verse (full)
Preteen (Grade 4-5)
Video
Lesson Packet
Discussion Questions Insights for Parents

Note: Videos are only available this week, Monday - Sunday. New videos will be posted next Monday.
---
Events
Preteen Service Event, Saturday, April 10

Join Preteens and their families (must be at least 5 years old) at Feed My Starving Children Saturday, April 10, from 9 - 11 am at the Eagan location. Space is limited so please RSVP to DJ as soon as possible to reserve your spaces. At least 1 adult needs to attend with their preteen.

Family VBS, July 26 - 29 (evenings)
Mark your calendars, save the date, and get ready to have some fun this summer at FAMILY VBS! We had so much fun last year that we're doing it again and ramping it up even more! It's going to be a blast and full of Jesus! VBS is geared for Preschool, Elementary, and Preteen kids, but all families are welcome.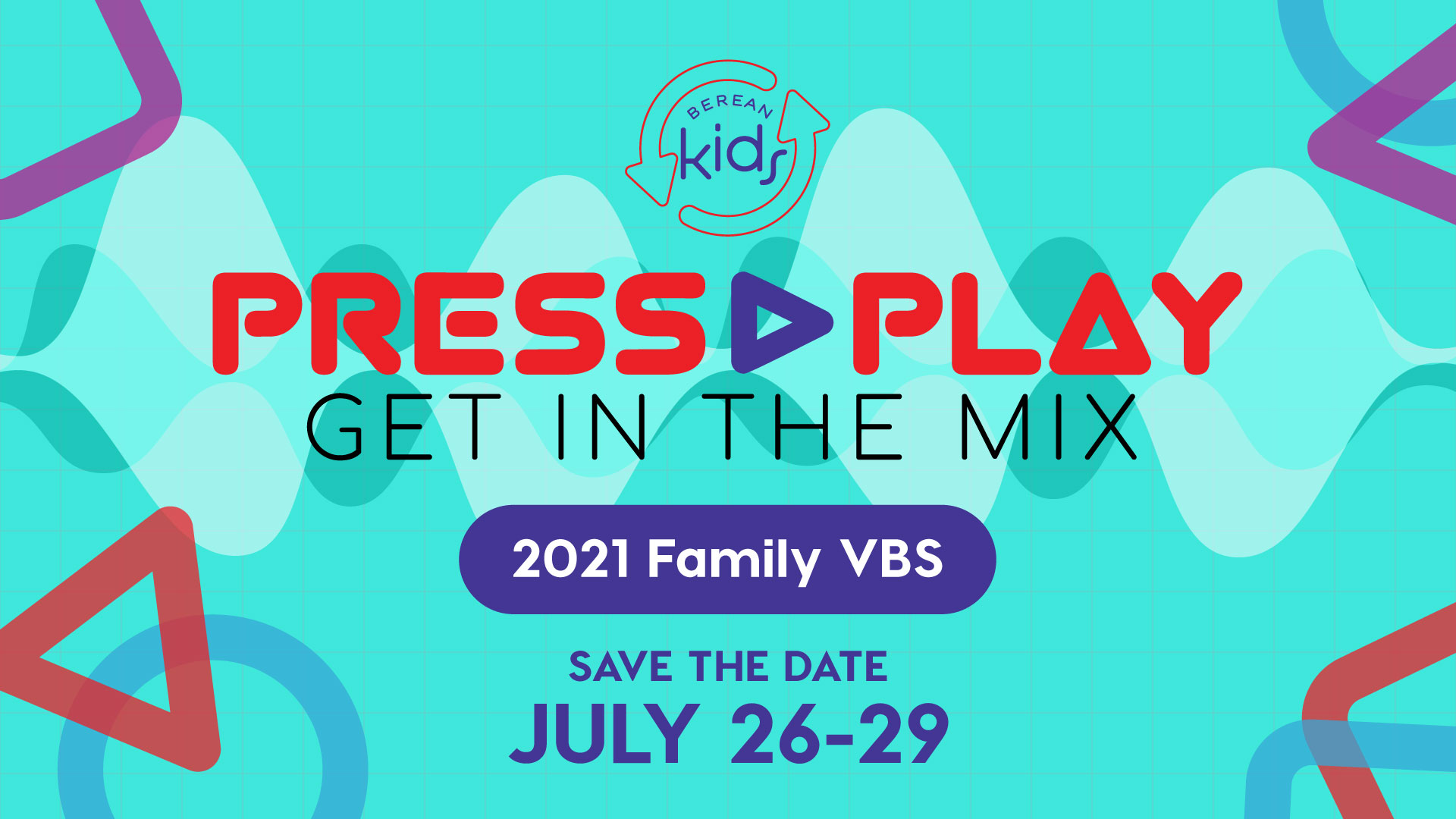 ---

BK Programming is available on Sundays for kids!
Burnsville: 9 am + 11 am for kids Age 0 - Preteen (Preteen only at 11 am)
Lakeville: 4 pm for kids Age 0 - Preteen (meeting at the Burnsville campus)
IMPORTANT Sunday Registration Information
We have limited capacity in our kids' rooms, so registration is required for kids to attend programming on Sunday. Following these two steps will ensure a quick and easy process to get kids to their classrooms.
1. Registration: Before arriving at Berean, kids must be registered. Think of this as purchasing a ticket to a general-admission concert. You have space at the venue, but you still need to show your ticket to get in. You can register through the website (see button below) or the Berean Baptist Church App.
2. Check-In: This is your ticket to get in and there are two ways to do this:
*Use the Church Center App: This allows you to check-in before you arrive. Once you come to the Kids area, you simply scan the code from the app, your nametags will print and you can be on your way.
*Go to a Kids Check-In person. This person will enter the last 4 digits of your phone number, check-in your kids, and then print your nametags.
Please be sure to cancel the registration if plans changed and your child will not be attending.
*For more information on what to do when you arrive, watch this video from Tanner, our Berean Kids Director.
*COVID Policies: Have questions about our policies with COVID? Read this.
Go to the Berean Kids page for more information on what we offer for kids, preteens, and youth.