What's Happening in BK September 13 - 19
Sunday (Age 0 - Grade 5)

BK Sundays: Age 0 - Grade 3
Preteen Sundays: Grade 4 & 5
9 am & 11 am

See WEEKEND PROGRAMMING below for more details.
This Sunday kids will begin a 3-year journey of going through the Bible! This first unit is called, In the Beginning and the first lesson is God Created the World from Genesis 1.
Kids will learn that Jesus is Lord over all of creation. The Son has always existed. The Bible says everything was created by Him and for Him, and He holds everything together. All of creation exists to bring God glory.
Parent Prep

In Berean Kids, our desire is for parents to be the primary spiritual influence in their children's lives. One way for you to do this is to tell the Bible lesson to your kids before they hear it from us on Wednesday and Sunday. We want to come alongside and help you, so we have created resources for you to use! Find resources HERE.
News & Events
Back to School Jam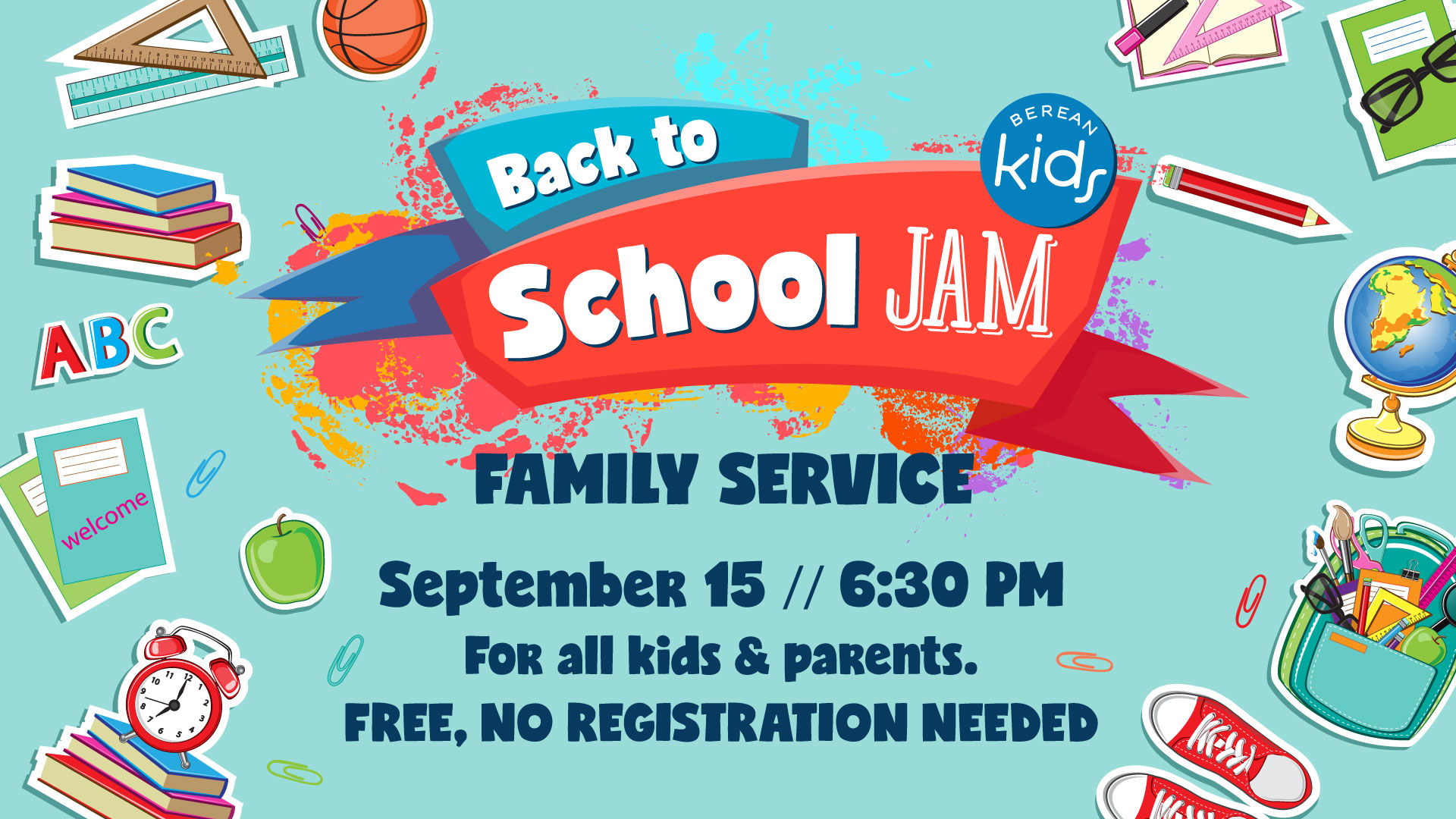 THIS Wednesday! Click HERE for details!
Wednesday Programming
BK Wednesdays: Pre-K to Grade 3
Preteen Wednesdays: Grade 4 & 5
6:30 - 8:00 pm
Programs begin September 22! Let us know if your kids will be attending HERE. This will help us ensure we have the volunteers and supplies needed. Click HERE to learn more about BK Wednesdays.
Calendar of Events
September 15 || Back to School Jam Family Service (includes First Grade Bibles Celebration)
September 22 || Wednesday Night Programming Begins PreK - Preteen
November 20 || Preteens & their Families Feed My Starving Children
November 21 || Child Dedication
December 15 || Jingle Jam Family Service
December 18 || Preteens & their Families Feed My Starving Children
January 22 || Preteens & their Families Feed My Starving Children
February 19 || Preteen & their Families Feed My Starving Children
---

BK Programming is available on Sundays for kids!
9 am + 11 am for kids Age 0 - Preteen
Registration is NOT required for kids to attend programming on Sunday. However, you do need to check-in your kids to programming by using the Church Center App or by visiting a Berean Kids volunteer at the check-in desk. When you use the app, you'll receive a QR code that you can scan at the check-in desk to print out your nametags. If you are visiting, no need to use the app! There will be Berean Kids volunteers ready to help you when you arrive.
Watch Emily to learn more!
Go to the Berean Kids page for more information on what we offer for kids, preteens, and youth.