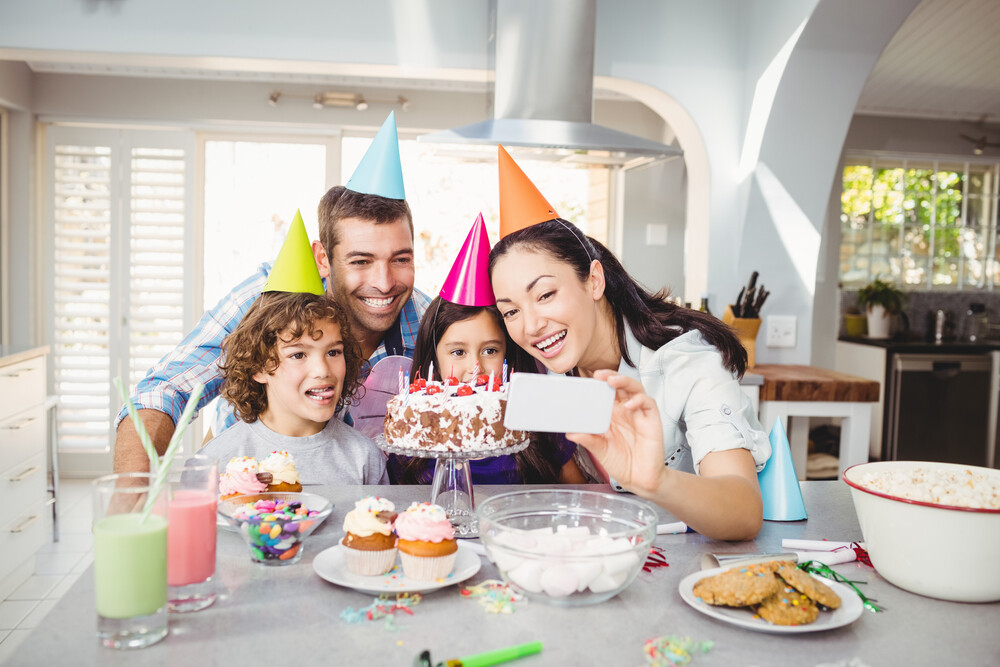 I can still remember the day my sister turned 10. I was 7 at the time, getting ready to turn 8. I watched out my bedroom window as my dad got home from work with a birthday balloon for my sister. I remember thinking, "I'll never turn 10. That is forever and a day away!" Little did I know how quickly I would reach that milestone (now 4 times over!).


Birthday celebrations are always so much fun. The attention is on you. The cake is your favorite kind. You are the only one who gets a gift. You get to pick a special dinner! Earlier this week I got to celebrate my middle daughter turning 10. It was so fun to see the uniqueness of the day that was based on her likes and choices. It is also hard to believe how quickly she is growing up. I can vividly remember the details of when she was born (we almost didn't make it to the hospital in time!). Every year, we get to celebrate her reaching the milestone of another year of life, just as we do with my other daughters, my wife, and myself. We get to celebrate another year that God has given to us.


Celebrations help us to remember important things that take place in our lives. We celebrate birthdays, anniversaries, new jobs, joyous occasions, and other important happenings. These celebrations allow us to do two things: celebrate the joy of the moment and remember what took place.



We must not forget to also celebrate spiritual milestones.
Spiritually speaking, we also reach different milestones in our lives. At
Berean
, we have put together an entire
Family Discipleship Plan
that is based on some of these key milestones as children are growing up and developing a firmly-rooted, authentic, resilient faith in Jesus. This path of milestones starts with child dedication, moves to a faith commitment, and eventually culminates with a life in Christ. This isn't the ending point of a life of faith, but it is the final milestone that we celebrate as we send our children out to an adult life of faith on their own.
Each of these milestones is critically important. They mark key points of progress and commitment along their journey of faith. So, what do we want to encourage parents and kids to do when a child reaches one of these spiritual milestones? You guessed it - celebrate!
These are both moments of joy that need to be celebrated and moments that are foundational building blocks to be remembered as a life of faith is continued.
Let's consider an example from Scripture.
When God led the Israelites across the Jordan River into the Promised Land (a hugely momentous moment!), he instructed them to gather some rocks from their journey across the river and set them up on the other side:


When all the nation had finished passing over the Jordan the Lord said to Joshua, "Take twelve men from the people, from each tribe a man, and command them, saying, 'Take twelve stones from here out of the midst of the Jordan, from the very place where the priests' feet stood firmly, and bring them over with you and lay them down in the place where you lodge tonight'" (Joshua 4:1-3).


Why did God have the Israelites do this? His purpose was so that they would remember and then be able to tell future generations of what God did.


The people came up out of the Jordan on the tenth day of the first month, and they encamped at Gilgal on the east border of Jericho. And those twelve stones, which they took out of the Jordan, Joshua set up at Gilgal. And he said to the people of Israel, "When your children ask their fathers in times to come, 'What do these stones mean?' then you shall let your children know, 'Israel passed over this Jordan on dry ground.' For the Lord your God dried up the waters of the Jordan for you until you passed over, as the Lord your God did to the Red Sea, which he dried up for us until we passed over, so that all the peoples of the earth may know that the hand of the Lord is mighty, that you may fear the Lord your God forever" (Joshua 4:19-24).
For the Israelites, this was an incredibly important milestone in their journey and fulfillment of the promise of the Lord. And what did God ask them to do? He asked them to mark it and celebrate it. Why? So that it would be remembered and the knowledge and understanding of it would be passed down for the purpose of future generations.
At Berean, we'd love to come alongside you!
It is such a good practice to celebrate and remember. We do this with many different moments and accomplishments in our lives. I can think of nothing better than celebrating and remembering the key spiritual milestones in our lives.


At
Berean
, we want to help you and your children celebrate these milestones, whether it be corporately with the body of believers or at home with those that are both special and close to you. You can find more information about these celebrations
here.


If we don't celebrate, we have a tendency to forget. As our kids continue through their lives, they will encounter a lot of difficult things that will challenge their faith. We want them to remember what God has done in their lives and lean on a strong and resilient faith. Celebrating the key spiritual moments in their lives will go a long way in helping to foster this kind of faith!
---
Learn More: