We have a lot of different "seasons" in our culture that require preparation. For families with kids, we spend a considerable amount of time and money preparing for the new school year. We buy clothes, shoes, and supplies while figuring out how to juggle our new schedules and rhythms. Here in Minnesota, we must prepare ourselves for the winter and snow. We prepare our yards, our sprinkler systems, our snowblowers, and our garages. We have to make sure that everyone has coats, gloves, and boots that fit and are in good shape. Sometimes you have to wait weeks to get your car into the repair shop as people are racing to get snow tires put on their car for the winter.


Christmas is a time of preparation.
Christmas is also a time of intense preparation. We put up the Christmas tree, decorate the house, send out the Christmas cards, plan the meal, and scurry around buying gifts to put under the tree. Christmas, however, is unique. Although it often may feel like just another season, Christmas has a far greater meaning and importance. We aren't just preparing for a time of year or a fun holiday to celebrate. Christmas is about celebrating the birth of the Savior, Jesus Christ. He was the one who was promised to come and bring us salvation. He is "God With Us" in the flesh.
Every year we celebrate Jesus' birth because of the significance and implications of his coming. So, wouldn't it make sense for us to also prepare our hearts for this time?
We must prepare our hearts for the coming of the Savior.
The season of Advent is a time of expectation and celebration of the birth of Christ as well as the second coming of the King. Traditionally Advent is celebrated during the four weeks leading up to Christmas. It is a time to turn our hearts toward the story and realities of the coming of Jesus Christ as our Savior. As Christians, we also look to the second coming of Jesus.
There are a number of different ways that people celebrate the Advent season both individually and corporately. This year at Berean we want to celebrate this season together both corporately and in our homes. As a church, we want to prepare our hearts as we expectantly wait to celebrate the birth of Jesus and turn our eyes and attention toward his expectant return. To do this we will be using a new resource called Advent Blocks.
Advent Blocks is a phenomenal resource for your family.
Advent Blocks is a beautifully created tool to help individuals and families celebrate Advent in their homes. It consists of a set of blocks to be displayed somewhere in the home. The blocks, numbered 1-25, represent the days leading up to Christmas. For each day in the month of December, the corresponding block is flipped to reveal an image. This image corresponds to a devotional reading that turns our hearts and attention to the story of Jesus and his expectant birth. Families will take a few moments each day to talk about the story that is told and how it connects to Jesus. On the final day, all of the blocks are rotated and the message, "Emmanuel, God With Us" is revealed.
This is a simple, pointed, and exciting way for families to prepare their hearts for the celebration of Christ's birth. It also allows us to strengthen our hope and expectation for Jesus' eventual return. Kids will really enjoy turning the blocks and reading the stories. This will also help kids to understand how the Bible connects as one big story - a story about God and his people with Jesus being at the center of his plan from the very beginning.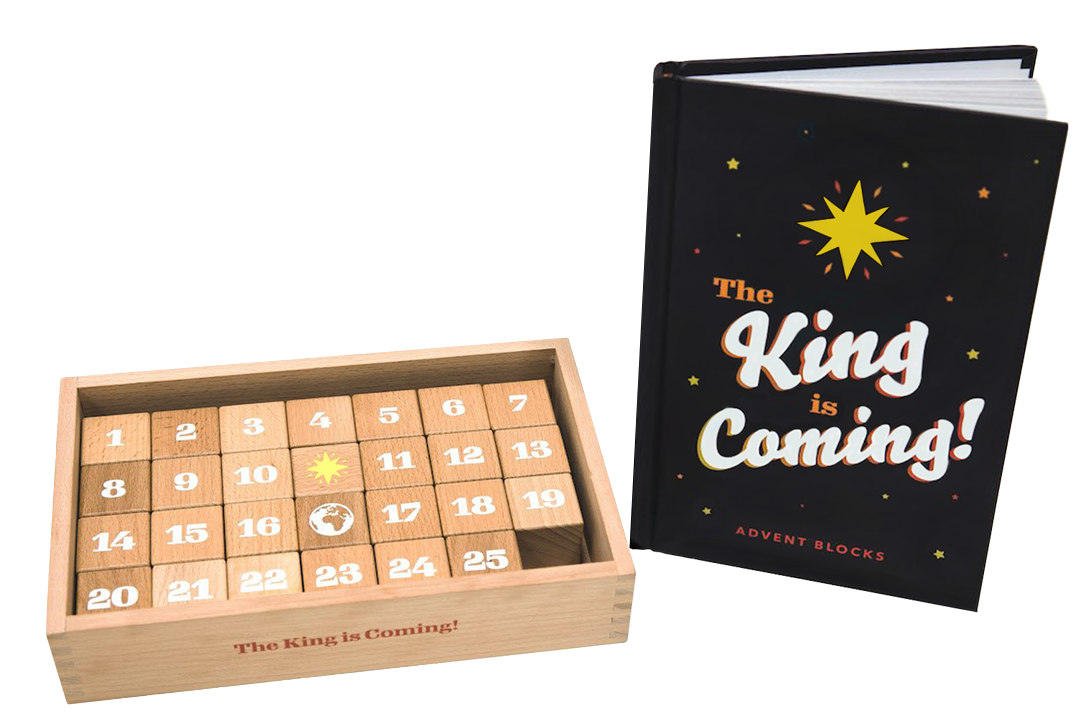 Advents Blocks is also a resource for every individual.
We don't just want this outstanding resource to be for families with kids. We want to celebrate the Advent season with all ages as a church. The Advent Blocks kit comes with blocks and a family devotional, but there is also a separate devotional just for adults that follows the same journey. If you don't have a need for the kit with the blocks, you can purchase just the adult devotional and follow along in your daily time with God. This truly is a way for us to expectantly prepare our hearts as an entire church!
Let's join this Advent journey together!
Christmas is a wonderful time of the year. There is just something magical about people decorating their homes with lights, having a fire in the fireplace, decorating the Christmas tree, and enjoying the company of friends and family. While all of this is good, as Christians we know that this isn't what Christmas is truly about. We are celebrating the fact that we have been reconciled back to God through Jesus Christ.
When Jesus was born, the world and all of eternity was changed. God fulfilled his promise and we all were given an incredible hope.
This Christmas season, let's not just prepare our homes and purchase gifts to put under the tree. Let's also take time to prepare our hearts to celebrate the birth of our Lord and Savior, Jesus Christ!
---
about Advent Blocks and Devotional:
Order through Berean and Receive a Discount:
Church Discount Program
(Use code Berean30 to receive 30% off your entire order when placed by November 14.)