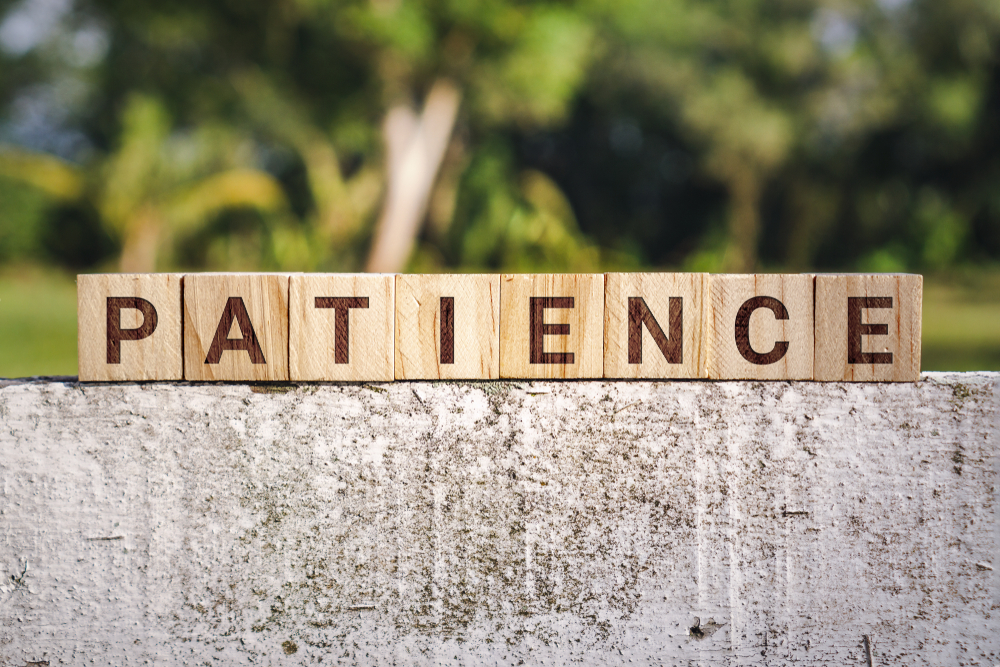 From the moment that we exit the womb, we have a patience problem. Even though, as infants, we are not cognitively able to understand that we are centered around our own desires, it doesn't change the fact that we are completely self-absorbed. When we are hungry, we cry and scream for food because we want it, and we want it immediately.
What is the root of the patience problem?
I know it isn't fair to act like infants are selfishly showing a lack of patience, but my point is that we don't learn and develop selfishness as toddlers, kids, or teenagers. From day one, we are enthralled with ourselves, our desires, and having these desires met immediately. And it only gets worse from there, right?
It's one thing to be impatient and not have the cognitive ability to understand it, but this trait further develops and deepens in our life as we get older. Why? It's a result of our brokenness and sin.
Sin is placing ourselves as what is most important and satisfying our desires for pleasure without any regard for God. Sin is willfully ignoring God and his instruction for our own gratification.
As toddlers, selfishness and lack of patience take a front seat. Defiance is even developed and displayed for not getting what is wanted with the intention of forcing things to go as desired. Kids don't like to wait. They don't like to be told "no" or "not yet."
We must acknowledge the patience problem.
Let's not fool ourselves into thinking that this is just a maturity issue that is solved through time. As adults, we struggle with patience and our attitude toward our own desires just as much, if not more. We might learn how to hide it better than our kids (although some do not!), but that doesn't mean we have cleared this hurdle and pushed it to our past. We still want what we want when we want it. If we don't get it, or we're required to wait on someone else's terms, we get frustrated, stressed out, and often lash out.
Look at what it says in James 5:7-8:
"Be patient, therefore, brothers, until the coming of the Lord. See how the farmer waits for the precious fruit of the earth, being patient about it, until it receives the early and the late rains. You also, be patient. Establish your hearts, for the coming of the Lord is at hand."
We must relinquish our control.
We are called to be patient! But developing this aspect of our character is difficult. We want what we want when we want it! Let's make sure we remember what this is and call it by its name: It is sin. The call is for us to be patient in waiting on the Lord. Why? Because he is powerful and sovereign. He knows what is best and he is always working.
Being patient is about relinquishing control in both mind and action. Just because we say we are patient doesn't mean that we are. We even lie to ourselves by saying that we are being patient, but then we stress, worry, get frustrated, and get mad. We need to have both a mind of patience and actions that follow.
We must realize that faith produces patience.
Having a mind toward patience is all about faith. Having faith means that we truly believe God is sovereign and in control of all things. We believe that he knows all things that are happening, that he is working for our good and for his glory, and that he knows what is best. If we really believe this, the next step is for us to rest in this.
Patience is not only about giving up our desires, but it is resting in the God who is in control of all things and willfully submitting to his plan, his methods, his timing, and his will.
In the Scripture passage above, James points to the farmer who has no other choice but to patiently wait. He can't make the crops grow out of will or desire. He has no control. He must wait on both the early rains and the late rains to yield a crop. He fulfills his role by plowing and planting. After that, he has to wait. We must do the same.
We must rest fully in God's plan.
God gives us instruction on what he asks of us. Placing Jesus as Lord of our life drives us to do as God asks and prove ourselves as good stewards over what he gives us to do. Outside of that, we have no control. That is a good thing because God, who is powerful over all things, is in control and knows best. Real patience is developing a mind of faith so that we can then put forth the action of resting in God to work.
James says that we are to establish our hearts because Jesus is coming. We are to establish a heart of true faith that actively welcomes God's timing and plan and rests in his sovereignty.
We must make faith and patience a daily choice.
Okay, I know this is not a light-switch change that we can make in our lives. We don't hear this challenge and then simply resolve to be patient for the rest of our lives.
It will be a daily struggle. This is something that we must take up each day, cognitively put our minds to, and actively live out.
Over time, God will transform us through the process of sanctification toward living a life of peace and reliance on him.
We must guide our kids toward a life of faith.
But another question remains. If this is something that we wrestle with, how are we supposed to teach this to our kids and help them on their journey? Here are three simple steps that will help you as you guide your kids toward a life of waiting on God:
1. Teach your kids about faith.
If patience is all about faith, then we need to teach our kids what faith is. Hebrews 11:1 says, "Now faith is the assurance of things hoped for, the conviction of things not seen." This is an outstanding definition for us. Faith is having assurance of the things we cannot see, living in light of those things, and relying on those things. The more we build our faith, the more patient we will become, because we are relying on God rather than what we see, feel, or desire. Not only can we directly teach this concept to our kids, but there are countless examples in our daily lives that can serve as valuable teaching opportunities.
2. Model faith to your kids.
Our words are important. How are people to know about Jesus if we do not share him with them? The same is true with faith. We need to teach it to our kids, but words will only get us so far. We can't say one thing and then show another. We need to show them what it looks like to live a life of faith. We need to exemplify a life of reliance upon God's Word and promises. We must show them what true patience looks like. Aligning actions of patience with teaching on faith is a powerful recipe for our kids.
3. Walk in faith with your kids.
We could teach our kids about faith and show them what patience looks like and then send them off to wrestle through it on their own. Or, we can teach faith, show them faith, and then walk right alongside them as they (and us!) learn and grow in faith and patience. We have an incredible opportunity to guide, direct, and encourage our kids through the ups and downs of their journey. Knowing they are not alone will greatly help them to grow and mature.
The journey is not easy, but it is incredible!
I've never enjoyed the realities of being patient. I like control and expediency. But I love my God more! I know his ways are far greater than my own. I'm on this journey of learning how to live a life of faith that expresses itself through patience with God. Our kids need us to start them on this journey and continue to push and encourage them. We are called to help them establish a heart that relies on God. It won't be quick, and it won't be easy, but it results in incredible peace and joy and gives God ultimate glory.
---
Read More:
Even When I Don't See It, God Is Working - By Ben Holden